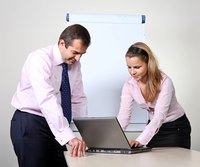 Business owners could not possibly know everything required for starting and operating a new business enterprise that leads to success. The key to success involves the possession of administration and delegation skills. Recruiting an excellent team of in-house advisers coupled with occasional advice from experts in areas such as law, accounting, or government compliance issues, for instance, ensures that the business owner makes sound decisions at every turn.
Basic Business Administration Skills
Operating a business with skill requires a modicum of business savvy. Master the general business administration skills needed to operate your business efficiently. Having good, solid business management knowledge and/or experience helps you successfully turn a profit in the shortest time possible. While not required or necessary for all types of business ownership, earning a business certificate or business degree provides you with essential knowledge of business operation concepts. Take advantage of as many business training opportunities as possible before you put your money on the line. Learn planning, administration, marketing and finance skills for optimal results. Standard business training establishes a basis for your business approach.
Niche-Specific Experience
The general nature of business training or business degrees does not always prepare you for the specific issues that will arise in your particular business niche. Working hands-on in a business similar to yours equips you with the secrets of success for that particular industry. Ideally, you should spend time working as an employee in your business niche before you attempt to start your own business.
Risk Management
Learn what you need to know about risk management. Even a single loss event can cause serious setbacks. Let a trusted insurance adviser guide you toward whichever insurance products, such as liability, workers compensation or theft, for instance, would be recommended for your new business. Depending on the business type, a surety bond may also be required to protect your customers. Be sure to study risk management issues in general and those specific to your niche.
Government Compliance Issues
Determine whether you need a Doing Business As (DBA) Name Filing before you obtain an occupational license. Check with state and local authorities in your area for license requirements. Doing this early in the planning process helps you determine if there are any lengthy training requirements you must satisfy before you can obtain a license for your business. All businesses must comply with extensive sales tax, income tax and payroll tax requirements, as well as occupational licensing requirements. Your state sales tax revenue office provides the sales tax requirements that apply to your business. Your accountant or CPA advises you on establishing the books for your new enterprise. Payroll can be done through a payroll service to ensure that you meet payroll compliance requirements. Because government compliance requirements change constantly, this requires constant vigilance.