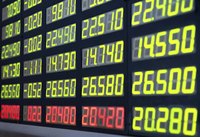 Market depth is a metric that tells you whether placing a large order to buy or sell a security is likely to affect its price. If the market is deep, large orders won't have much impact. But placing a big buy or sell order when the market for a security is shallow might easily drive the price up or down. Market depth usually concerns traders and investors when a security's volume is low.
Evaluating Market Depth
A market depth analysis looks at current orders for a stock, foreign currency or other security. The depth of the market is measured by the volume of "ask," or sell, orders and "bid," or buy, orders. This volume information is reported for ask and bid price quotes for the security in question. Suppose a stock quote indicates sell orders for 15,000 shares and bids for 5,000 shares. The market is much deeper on the sell side. In this situation, large sell orders tend to push prices down, while a buy order likely would not affect the price much. Conversely, if there are more buy orders than sell orders, placing a large buy order might drive the price up.