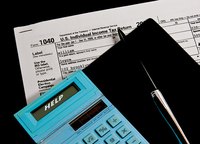 Many employers offer 401k accounts to employees as a benefit for working for the company. This allows pre-taxed money to pool into an account that is for future retirement. Many times, companies match a certain percentage of these contributions to help employees build up the account. When filling out the Free Application for Federal Student Aid, or FAFSA, you have to report all of your income and assets, including the 401k account.
Assets
Many people who fill out the FAFSA assume that 401k account contributions go under the "assets" section of the form. While you do list most of your assets beneath this section, such as investment accounts, you do not add your 401k account here. The FAFSA does not include the 401k in the asset total when determining your expected contribution.
Untaxed Income
You will have to list the 401k later on in the application. List the total amount you have contributed to the 401k beneath the "untaxed income" section of the form. This is on section five of the form, or question number 95. This is for any pre-taxed payments to the 401k account.
Employer Contribution
Do not include any contributions your employer may have listed to the account. You only want to list contributions that came directly out of your check before your taking out for taxes. This will prevent any misreporting of income that may occur if you listed the total amount in your 401k account.
Tax Returns
When filling out your FAFSA, you may choose the option to transfer information from your tax return from the IRS. This will automatically fill in any 401k contributions you made throughout the filing year. However, do not rely solely on your W2 form when filling out this section of the FAFSA.
Itemized Report
Access your 401k account directly from the company who maintains the account. A more accurate break down of contributions is available for you to access this way. Double check the numbers with the contribution breakdown you receive.