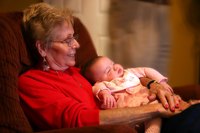 Just like the Energizer bunny, as long as you live in your home, a reverse mortgage just keeps on going. It is one of the key distinguishing and beneficial characteristics of the loan. That, and the money. The loan proceeds you receive are yours to keep without any repayment ever required. Instead, the house will be used to repay the lender what it paid you.
When a Reverse Mortgage Ends
A reverse mortgage is yours until you move out of the property for a period of 12 consecutive months, sell the property or die. If a married couple has taken out the reverse mortgage jointly, it comes due when the last of the two borrowers moves away for 12 months, sell or dies.
Basic Timelines
If you are the reverse mortgage borrower and are selling the property, the loan terminates the day the title transfers and loan repayment is due at closing. According to the U.S. Code of Federal Regulations, if you are the borrower and the loan is terminating because you have not lived there for 12 consecutive months or if you have inherited a house with a reverse mortgage from a borrower who died, the loan must be repaid within six months. Both borrowers and their heirs are also provided with the opportunity to give the property to the lender through the deed in lieu process or to repay the loan balance with cash, with or without a refinance of the property.
Extensions
Two extensions may be made to the code-required six-month repayment deadline. The first, as explained in a HUD publication regarding reverse mortgage servicing by lenders, is an automatic extension of 90 days that was made effective in 2010 when the mortgaged building is being sold. Its purpose, according to HUD, is not to allow the borrower or heirs to delay sale of the building. Rather, it is provided to allow for enough time to sell the property. A second 90-day extension is permitted by request for the same purpose. It is not automatic but is routinely granted if the property has been and continues to be actively marketed for sale. With both extensions, this brings the total time you have to sell the property in order to repay the loan to one year. If the property is not sold during this period, lenders are obligated by the Department of Housing and Urban Development to foreclose upon the property.
State Law
The Code of Federal Regulations additionally extends the initial six-month repayment period by any amount of time required by state law. These may be laws that are applicable to any mortgage, such as those that require lenders to delay foreclosure until they attempt loan modifications, or to laws specific to reverse mortgages.