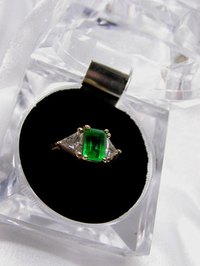 Not every green gemstone is an emerald -- it could also be a peridot, a malachite or a piece of jade. Green gems have appeared throughout history, on the neck of Cleopatra and the fingers of Marjorie Merriweather Post, among others. Gems are divided into two categories: precious and semiprecious. Precious gems, such as peridot and emerald, are rarer, more expensive and less opaque than semiprecious gems. Green gems such as moss agate, jade and malachite are considered semiprecious.
Precious Gemstones
Precious gemstones are rare. They cost more than those considered semiprecious, and are ranked between 7 and 10 on Moh's Scale of Hardness. Precious stones are less opaque and, when cut, sparkle in the sunlight. Emeralds and peridots are green gemstones that are considered precious. Although most are in other colors, some rare garnets, tourmalines, topazes and sapphires are green. The metal settings for these precious gems include sterling silver, gold and platinum.
Semiprecious Gems
Semiprecious stones are softer than precious ones. They can be anywhere from a 4 to a 6.5 on Moh's Scale of Hardness. Because of this, these stones are often carved into sculptures, beads and pendants. Semiprecious gemstones are less rare than precious ones, and cost less. They are more opaque and are often made up of layers in various shades of green. Semiprecious green gemstones include malachite, gaspeite, jade, jadeite, variscite, moldavite, jasper, adventurine and bloodstone.
Use in Jewelry
Green gemstones are set into rings, pendants, necklaces and bracelets. Some of them, such as jade, are carved into sculptures. Semiprecious stones can also be found as beads or as pendants with a simple hole carved into them. Several green gemstones are birthstones. Emerald is the birthstone for May; sapphire represents people with September birthdays; and peridot is the birthstone for August.
Where They Come From
For a gemstone to be green, certain impurities must be present. Gemstones are formed by a chemical reaction deep in the earth. If there are no impurities present when it forms, the stone comes out clear, which is rare. The chemical impurities are what give gemstones their colors. Although two stones -- for example, jade and emerald -- may be green, overall each has a different chemical makeup that determines which is which. For example, emeralds contain a chemical called beryllium aluminum silicate, giving them their green color, whereas jade can vary in color depending on the iron level.