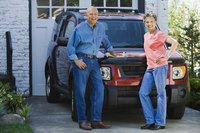 A balloon payment arrangement allows you to make smaller payments during the first few years of your auto loan. You will be required to make a large payment at the end of the term, often for the entire balance of the loan. You can avoid making this payment by refinancing your loan before the due date. Start the refinancing process early so you have plenty of time to close the new loan before your balloon payment becomes due.
Applying for Refinancing
Contact your lender to get a statement showing the total amount needed to pay the balloon in full, including any applicable fees or interest. Request quotes from several other lenders, including online finance sites, to find the lowest interest rate and fees. When you apply for the new loan, you will need your Social Security number, employment history, income details, year of the vehicle, its make, model, vehicle identification number, mileage and any significant features that could change its value.
Trade-In Value
Depending on the age and value of the car, it may be better to trade it in to a dealership instead of paying the balloon payment on your existing loan. In most cases, the dealer will pay the balloon for you as part of the trade-in. If the car is worth more than the balloon payment, you can use the extra money to buy a better car or select additional features. However, if the value of the car does not cover the entire purchase price of your new car, you must make up the difference out of pocket.