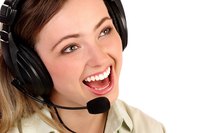 The role of research in business is to provide information that can help your company run efficiently and profitably. A well researched business has an advantage over its competitors because its principals plan business operations in reference to actual, verified data rather than speculative guesses. This minimizes costly mistakes and effectively focuses marketing efforts.
Customer-based Marketing Research
Customer-based marketing research provides your company with essential information about what your clientele wants, and whether your company is effectively providing it. Marketing research can take the form of formal surveys such as online polls or in-person questionnaires with specific objectives evaluating whether or not there is a market for your new idea. You can also perform valuable informal marketing research simply by speaking to your customers about their specific predilections and asking what your company can do to more effectively meet their needs.
Competitor-based Marketing Research
Competitor-based marketing research provides information necessary to successfully introduce and brand your product. Competitor research includes studying comparable products to highlight ways that your own offerings are different. It also involves researching the prices on items in your industry to understand what customers will typically pay, and also to develop a pricing strategy that brands your product relative to the other available alternatives. Observing marketing strategies that your competitors use enables you to understand your target market, and strategize about ways to reach them.
Product Research
Product research provides you with the information you need to create durable, high-quality offerings. If you own a toy manufacturing company, testing new products would involve subjecting them to the type of harsh treatment they might endure at the hands of children to ensure they are sturdy and safe, as well as providing prototypes to children to make sure they enjoy using them. If you own a food business, product research might include testing product shelf life by tasting foods after different periods of time.
Operations Research
To effectively manufacture and market your product, your company must research information about the best way to produce and distribute it. This research involves investigating production processes and equipment, as well as sources for supplies and materials. By doing your homework and choosing the most appropriate equipment, your company will save the time and stress of using clumsy, inefficient systems. By researching prices on materials, you will save money by buying the least expensive options. Researching distribution options enables your company to find a wholesaler or shipping company that specializes in your type of product, and reaches your core customer.