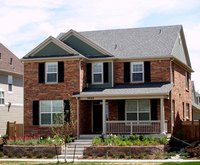 Appraisals are used for many reasons beyond buying or selling a house. As such, appraisers work for a number of different clients. Each appraisal attempts to resolve some type of real estate problem. In that regard, not every appraisal takes the same approach or employs the same appraisal methods. Appraisals are priced according to the type and complexity of the work the assignment requires. The person responsible for the appraiser's fee depends on who ordered the appraisal and how the client uses the report.
House Appraisals
Consumers are most familiar with an appraisal ordered to value a home purchase. Financial institutions order the appraisal to evaluate the home's value as collateral for a loan. Although appraisers work on behalf of the lender, the homebuyer typically pays for the appraisal as part of the mortgage closing costs. Buyers might also order an appraisal before purchasing a home to help them decide on an appropriate offer price. Homeowners often order an appraisal before listing their home for similar reasons. Especially in an over-supply market, homes that list for a realistic and competitive price generally sell more quickly. Real estate agents may order an appraisal on behalf of a buyer or a seller, but they will typically pass the cost to their client. The Federal Reserve estimates appraisal costs in 2010 between $244 and $444. If you pay for an appraisal for lending purposes, you are entitled to a copy of the report.
Professional Use
Attorneys and accountants order house appraisals for a number of business reasons. As a tool to evaluate real property value, appraisers help prepare for litigation, arbitration and sometimes function as expert witnesses in the court. Divorce cases often require an appraisal to determine a fair division of property. Accountants may require an appraisal for use in tax preparation and depreciation calculations. Ultimately, professionals typically bill their clients for the appraisal fee.
Governmental Use
As part of the appraisal process, appraisers study legal descriptions, zoning ordinances and restrictions and look for property infringements. Government entities may require an appraisal for site evaluations, property condemnation, feasibility studies, absorption studies and market analysis. The Alaska Department of Natural Resources orders appraisals to establish a purchase or rental price for state land use. Government entities pay for house appraisals when projects, such as a new highway, require the purchase of a house in the new road's footprint. In this case, homeowners generally benefit in negotiations if they hire and pay for their own appraisal to counter the governmental appraisal.
Business Use
Many businesses own buildings and vacant land, or they may want to purchase nearby houses for business use. They may order and pay for appraisals to evaluate highest and best use of the property, operating expenses, rental studies or business valuation. Appraisers function as management consultants, helping business owners make informed decisions about current and future business plans. Appraisers evaluate the quality and use of the property, including outside influences that affect valuation.