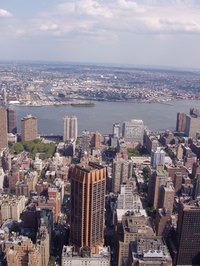 Each state provides renters with a right to exercise peaceful and quiet enjoyment of their rentals. Landlords must provide tenants with these rights to enjoyment by complying with the state's "warranty of habitability" laws. In New York, state laws and local ordinances require landlords to provide habitable living environments for their tenants. Generally, landlords in New York who rent multiple dwelling buildings must adhere to different standards than those who rent single-family homes.
Duty of Repair
Under New York's Multiple Dwelling Laws and Multiple Residence Laws, landlords who rent buildings with multiple dwellings must keep the buildings in good repair and maintain clean buildings and common areas. "Good repair" under New York law requires landlords to keep public areas and apartments free of pests, vermin, garbage and "offensive" materials.
Systems and Appliances
Landlords of multiple dwellings must ensure their rentals contain working toilets, heating and ventilation, electrical and plumbing systems. Additionally, all appliances provided by the landlord, such as refrigerators and ovens, must be safe and maintained in working condition. Landlords must install smoke detectors in each apartment within 10 feet of any room used for sleeping. Landlords of one- and two-family homes or multiple dwellings must install a carbon monoxide detector within 15 feet of each bedroom's main entrance.
Adequate Heating and Hot Water
New York requires all landlords who rent properties with multiple dwelling units to provide adequate heating during certain months. From Oct. 1 through May 31, landlords have a duty to provide heat in their units, maintained at a constant temperate of at least 68 degrees between 6 a.m. and 10 p.m. if the temperature outside drops to 55 degrees or below. Landlords must provide tenants in multiple dwelling units with hot water registering at a constant 120 degrees tap temperature or install anti-scald equipment. Landlords may not discontinue utility service without providing notice of delinquency to tenants and government agencies, as required. Tenants have rights to contract directly with oil dealers to heat their oil-heated apartments if the landlord fails to supply oil.
Lead Paint
Landlords must comply with federal laws and local ordinances requiring verification that tenants with children under 7 do not live in an apartment with lead paint. Landlords have a duty to all tenants to perform lead-safe repair work, taking adequate precautions to prevent lead paint exposure by hiring workers with lead training and by covering areas or removing areas with peeling lead-based paint.
Entrance Doors for Multiple Buildings
Landlords must provide automatic self-locking and self-closing doors for all multiple dwelling buildings built or converted for use after Jan. 1, 1968. Landlords must ensure safety by keeping the doors locked 24 hours a day unless there is an attendant available at the door. Landlords with at least eight units in one building must provide a two-way intercom from every apartment to the main entry to allow tenants to buzz their guests in. Landlords also have a duty to maintain proper lighting in stairways, yards and building entrances from sunset until sunrise. Tenants who rent from landlords in buildings with more than eight apartments can request a security lobby attendant if they pay for it.
Elevators
Landlords must provide mirrors in every self-service elevator within multiple dwelling buildings. Landlords must allow tenants to install special locks less than 3 inches, so long as the tenant provides the landlord with a key. Landlords must provide peepholes for every apartment and chain-doorguards to allow tenants to partially open their doors.
Considerations
Since landlord-tenant laws can frequently change, you should not use this information as a substitute for legal advice. Seek advice through an attorney licensed to practice law in your jurisdiction.