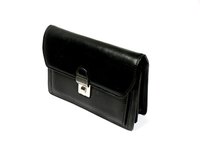 The little black dress is a traditional staple in a woman's closet; however, the accessories can make the ensemble uniquely yours. The accessory options are endless, as most shades and textures will coordinate with and complement the monotone garment. The accessories will allow you to customize how formal or casual you want the outfit to be and likewise how traditional or cutting edge.
Jewelry
A beaded black dress will pair well with bold, metallic jewelry. The sparkle from the beading will easily complement the glint from the shiny jewelry in tones of silver, bronze or gold. The simple and chic black will also coordinate well with the metallic tones. Wear bangle bracelets with bold earrings for a retro, though stylish look. Add a sparkling broach to the dress straps or the bust area to add another touch of sparkle amongst the beading.
Shoes
Stick with the metallic colors for the shoes paired with the black, beaded dress, or coordinate with the dress color with a sleek, black shoe. For an evening gown, choose a black, strapped sandal with beaded accents to flow with the elegant style of the dress. A silver or gold shoe, coordinating with the selected jewelry, will enhance the sophisticated look of the ensemble as well. For a short, beaded cocktail dress, try a bold look with a black boot or a black, rhinestone studded pump.
Purse
A beaded black dress, whether cocktail style or a long evening gown, will emit elegance and chic style. Choose an equally elegant and sophisticated purse for the ensemble, a clutch. To tie in the beading details on the dress, choose a beaded black clutch that will echo the sophistication of the dress. Clutches come in a variety of sizes and styles so choose the one that best reflects the tone and style of your dress, shoes and jewelry. Look for small details in the clutch to coordinate with. For example, if you are wearing silver jewelry choose a clutch with a silver clasp.
Hair
Whether it be a beaded headband, a beaded clip or a studded bobby pin, adding a touch of sparkle into your locks will round out the entire ensemble. Choose a black beaded hair accessory for a subtle, yet elegant look that will not compete with your jewelry or the dress itself, only enhance it. A beaded headband will give a cocktail dress a flirtatious and youthful touch while a beaded hair pin or clip will give your up-do a sparkle of sophistication in combination with a beaded evening gown.