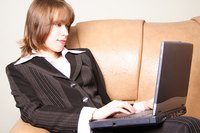 Helping customers create effective web pages is a rewarding career for a consultant. Consulting on website design, structuring websites, and using the site effectively to create business are among the many services offered by web design consultants. They can work with small businesses, large companies, or nonprofits as a specialty, and work within an agency or on their own.
Salary Range
Salaries and hourly rates for web consultants depend on the skills they bring to the table, their years of experience, and level of consulting help they offer. Some web consultants are primarily graphic designers, while others have extensive development skills. Generally, those consultants who combine graphic design with technical experience command the highest fees, as do those who also have experience in some other areas of website development or online marketing, such as web analytics or search engine marketing.
Salaries
Salaries for web consultants who are primarily graphic designers range from $35,000 to $57,000 a year as of 2011, according to the Bureau of Labor Statistics. Those who are web developers earn between $38,000 and $62,000 a year as of 2011, according to PayScale.com. For search engine optimization consultants, pay is normally hourly, with ranges between $40 and $50 an hour depending on success rates and experience, notes SEOmoz.
Duties
Web consultants work with clients to determine the goals they have for their websites, the overall look they are aiming for, and the scope of the project, such as whether only design is involved or whether search engine optimization is also needed. They then build websites according to client specifications and their own recommendations, or optimize websites for search engines, or enhance existing websites with measurement tools, Flash animation or other additional features.
Training
Web consultants have a variety of different backgrounds. Many have bachelor's degrees in graphic arts with coursework in web development. Others may have a degree in communications, liberal arts, or marketing. Most professional web consultants pursue continuing education as well through conferences, additional coursework, and participation in trade groups.