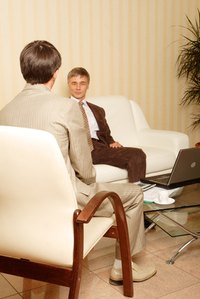 Training employees is a fundamental element of human resource management. The process requires participation from a range of supervisors and experienced employees. Managers have many duties and responsibilities to attend to outside of the training process, but they have distinct responsibilities during training that must not be neglected. Understanding the role of management in training employees can help you to structure an effective training system and help your new hires to be more prepared before starting their jobs.
Facilitator Role
In smaller organizations, managers may take the time to train new employees directly. In larger organizations, it is more likely that managers will assign experienced trainers to the task. Managers have a responsibility to provide everything that trainers need throughout the training process. Managers must provide specialized training for the trainers themselves, arrange for new workspace for new hires and arrange for trainers' regular workday tasks to be completed while they are training. The manager must also be available to answer any questions or provide any assistance that the trainer/trainee pair may need.
Monitoring and Feedback
Managers have a thorough understanding of the skills and competencies required to succeed in their departments. It is their responsibility to monitor the progress of new employees to ensure that their training is progressing productively, and that they are steadily gaining the skills they will need to operate on their own within the department. Managers have a responsibility to provide encouragement for solid progress and constructive feedback on any challenges that arise. Trainers should meet with managers regularly throughout the training process to discuss trainees' progress.
Identifying Issues
Employee training programs are not only for new hires. Implementing ongoing training programs for existing employees can help you to steadily increase your company's efficiency, quality standards and productivity. Managers have a responsibility to identify current, relevant issues within the department to address during ongoing training sessions. They also have the responsibility to provide additional, one-on-one training for issues that arise with individual employees when necessary.
Training Curriculums
Since managers know their departments inside and out, they play a crucial role in developing training curriculums for both new hires and existing employees. Managers have significant input on the skills, concepts and techniques covered in training programs, as well as setting the standard for completion of training programs. Managers must continually assess whether current training curriculums accurately prepare employees for their day-to-day work, making revisions and additional recommendations whenever necessary.