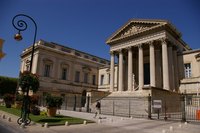 If you find yourself unable to cope with debts and repay your creditors, Chapter 13 bankruptcy is a viable option. While Chapter 7 bankruptcy entails a discharge of your unsecured debts, in Chapter 13 you repay a percentage of those debts, as outlined in the bankruptcy plan. The percentage depends on your specific circumstances.
Initial Filing
You must file a Chapter 13 bankruptcy in federal court by submitting forms that list your property, income, debts and expenses. You must also file your previous year's tax return, certify that you've attended a credit counseling course and submit a repayment plan. The filing of a bankruptcy case stays all collection actions against you by secured and unsecured creditors.
Chapter 13 Repayment Plan
The plan lists monthly payments that will be made to each creditor. The payments are made by you to a bankruptcy trustee, who is an officer of the court and who is responsible for disbursing the money to your creditors. If you fail to make the payments on time, the case can be dismissed by the court and all of your creditors will have the right to demand full repayment.
Non-Dischargeable Debts
Certain obligations are non-dischargeable, meaning they must be paid in full. These include federal and state taxes, child support and alimony payments, attorney's fees, filing fees, any wages that you owe to employees (if you are personally liable for debts of a business) and contributions to any employee pension or benefit fund.
Secured Loans
You must also continue mortgage payments; otherwise, the lender who holds the mortgage note may foreclose on your house. Any other loans, such as car loans, that are secured by property must also be paid in full.
Repayment Percentage
Unsecured debts are paid at a percentage of the outstanding balance, depending on your income, the value of property that is not exempt from the bankruptcy law and the length of your plan. If your average income exceeds the median income in your state for a household of your size, the plan must continue for five years.
Income Level
Thus, a typical Chapter 13 bankruptcy plan lasts for five years and repays unsecured debts at about 20 percent. The law allows a certain amount for monthly expenses and repayments of secured loans, then figures any remaining income as payable towards the unsecured debt. If your household income falls below the median in your state, you can propose a shorter plan; for example, a three-year plan, but this is subject to the approval of the court.