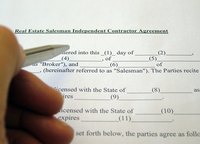 Real estate agency agreements spell out the working relationship between agents, or brokers, and a buyer or seller of real estate. It is important for a consumers to understand these relationships, because agency creates legal relationships between the agent and a buyer or seller. As a result, educated consumers are able to determine that not all agents are looking after their best interests.
The Concept of Agency
Agency is a relationship between two parties, an agent and a principal. The agent therefore owes his fiduciary responsibility to the principal, meaning that he needs to look after that person's best interest. The principal, in return, gives the agent exclusive right to represent the buyer, or the exclusive right to sell a property. The terms of an agency agreement can, and do, vary greatly, so be sure to read the agreement carefully.
A Buyer's Agent
Buyer's agency has grown increasingly common in North America since the late 1990s. In a buyer's agent agreement, the agent owes the buyer loyalty and confidentiality, but must disclose his agency relationship with the buyer to any other parties involved in the transaction. In other words, he can't hide the fact that he is working for the buyer to gain an advantage. In exchange, the buyer agrees to be exclusively represented by the agent.
A Seller's Agent
A seller's agent, often referred to as a listing agent, represents the seller in a real estate transaction based upon terms established in an exclusive right to sell agreement. The agent is obligated to fully disclose any material defect with the property, but is not obligated to disclose such things as the seller's motivation. The seller agent's fiduciary responsibilities include acting in the best interest of the seller, being honest and being loyal.
A Transaction Agent
Unlike a buyer's agent or seller's agent, a transaction agent does not represent one party or the other, but works for the benefit of both parties and the successful completion of the deal. A transaction agent may start out representing the buyer or seller and change to a transaction agent if there is a clause in the original agreement that allows the agent to make the change, and both parties are in agreement.
Dual Agency or Limited Agency
Some states allow one brokerage to represent both the buyer and seller as a dual, or limited agent. Situations like this, however, present an increased possibility for a conflict of interest than when the two parties are represented by separate agents. Many states have specific laws prohibiting a single agent from negotiating the sales price of a property while representing both buyer and seller.