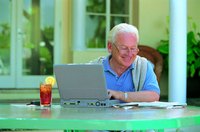 Opening a bank account online allows customers to take advantage of bank features, but with the convenience of submitting all necessary information from home. If you open an account online, you need to provide a considerable amount of personal information, including your Social Security number and date of birth, but it may not be necessary to provide identification.
Account Requirements
When you open a bank account online, the financial institution will collect personal information for a variety of purposes. Financial institutions require this information to meet certain federal requirements, including anti-money laundering laws and laws designed to prevent the funding of terrorism. Banks will also use this information to verify your application with TeleCheck, a service that alerts banks to abusive banking practices some customers exhibit before switching banks. Though all banks collect certain identifying information, the requirement for a photo identification varies from bank to bank.
Identification Requirements
To comply with banking regulations and perform the necessary security validations, banks must collect key pieces of identifying information. This information typically includes your full name, address, telephone number, Social Security number and date of birth. Though not all banks require a copy of your photo identification, some banks may require a driver's license or photo ID to successfully open a bank account. Financial institutions that do require ID will ask you to visit a local branch and provide identification within some period of time after opening the account. If you do not do so, they may close the account.
Opening Multiple Accounts
If you do not have ID and are having a difficult time opening a bank account, you may be able to create a new account at your current bank if you already have an existing relationship with the institution. According to McDonald Information Services, a financial industry consulting company, banks do not need to obtain additional identifying information from customers who already have an existing account in order to comply with anti-terrorism laws.
Benefits of Identification
Even though some banks will open a bank account online even if you do not provide identification, showing ID may serve a number of benefits. Banks can use your identification to help prevent identity theft and may use information from your ID to personalize your account features. In addition, some merchants may require an ID when you present a bank check for payment, and your bank's local branch may require ID to cash a check or withdraw money even if you have an account.