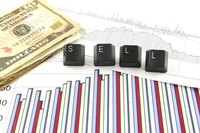 Companies issue stock as a way to bring in additional capital, but sometimes that capital isn't enough to keep the company afloat. If a company faces serious debt and other financial problems, bankruptcy may be one of the only options left to those in charge. A bankruptcy filing has major implications for the company, including its shareholders.
Corporate Bankruptcy
There are two primary types of bankruptcy filings available to businesses, Chapter 7 and Chapter 11. If a company files for Chapter 7 bankruptcy, the company is dissolved and goes out of business, with its assets used to cover debts and other obligations. With Chapter 11 bankruptcy, the company is reorganized with the assistance of the court and continues to operate throughout the bankruptcy proceedings.
Stock and Bankruptcy
The effect of corporate bankruptcy on issued stocks depends on the type of bankruptcy filing. In a Chapter 7 bankruptcy, all assets are liquidated, so there is no business to support the value of the stock; the stock becomes worthless, and shareholders may or may not receive money from the bankruptcy. In a Chapter 11 bankruptcy, on the other hand, the company continues to operate and the shares of stock still maintain some value. Stock prices will likely fall significantly, but the stock can still be traded.
Debt Priorities
When assets are liquidated as part of a Chapter 7 bankruptcy filing, stockholders receive the lowest priority in regards to distribution of these liquidated funds. First priority goes to secured creditors such as banks, ensuring that they receive the money owed on mortgage loans and other secured transactions. Unsecured creditors such as suppliers, bondholders and banks or other lenders who have issued unsecured loans to the business receive second priority. Any funds left over are dispersed among shareholders, with holders of preferred stock receiving compensation before those who own shares of common stock.
Exchange Listing Standards
Stock exchanges such as NASDAQ and the New York Stock Exchange have standards that companies must meet to use their services as a means of selling and trading stock. Most companies that file for Chapter 11 bankruptcy fall below these standards, resulting in their removal from the exchange. Other exchanges such as OTCBB or the Pink Sheets will generally continue to trade the stocks, however, allowing the existing stocks to retain a market while the company is restructured.
After the Bankruptcy
Once a company completes its restructuring and comes out of a Chapter 11 bankruptcy, a new stock with a different ticker symbol is often released. This stock may be traded separately from the old stock, or the court trustee who handled the bankruptcy may request that shareholders exchange their old shares for shares of the new stock. Investors are encouraged to convert their holdings to newly issued stock, since many restructuring plans cancel the equity of existing shares, causing them to lose all value.