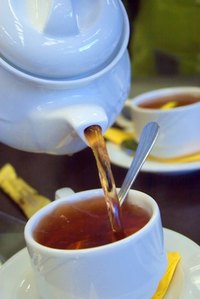 A tea party is an elegant way to celebrate your birthday, but the price doesn't have to break the bank. Make your own treats instead of getting the party catered, and try to use items you already have in your home for decorating purposes. For everything else, dig around vintage stores for interesting finds that keep costs low.
Party Space
Instead of shelling out big bucks to rent out a space at a tea room, brainstorm several locations that you could use free of charge. If the weather permits, try to host the party outdoors in a tranquil setting. For instance, a backyard garden would make for an ideal setting — if you don't have your own backyard space, ask friends if they'd be willing to lend theirs to you for a few hours, or find out about using a public space like a park for the event. If the weather doesn't cooperate for an outdoor tea party, using a living room or dining room in your home or a friend's is an alternative option.
Decorations
Be resourceful and take inventory of items you already own before making any additional purchases for decorative materials. Ask friends to take a look around for suitable items they may have in their homes as well. Use several card tables and enough chairs to seat your guests and set them up any way you'd like around the party space. Use any suitable tablecloths and fabric you were able to find around your house to cover the tables and chairs, or head to a fabric store to see about purchasing some sale fabric that would look elegant on the cheap. Use fresh flowers from your or your friends' gardens if the season permits and create floral centerpieces for the tables, otherwise, use a seasonal centerpiece, like cinnamon sticks, cranberries and oranges in winter.
Table Settings
A tea set is an important fixture of a tea party, so if you have a set or several sets that you'd like to use, take advantage of items that you or your friends already own. Items you'll want to have include at least one teapot, teacups and saucers, a creamer and sugar bowl, and teaspoons and dessert forks. If you find yourself unable to produce these items from those you already own, try searching for interesting pieces in vintage or thrift stores — these typically cost less than in a regular department store, and you may discover a variety of eye-catching finds.
Food and Drink
Naturally you'll want to serve tea at a tea party, but if your event is set to occur on a warm day, consider brewing several batches of iced tea for your guests. Offer a selection of different teas and place these options on each table. Provide hot water for guests to steep their individual selections. To keep your personal spending low, encourage each guest to bring her favorite type of tea to share during the party. Once everyone is finished, provide plastic baggies for each guest to take home one teabag of each variety. Provide a variety of dainty foods like finger sandwiches and small sweets to complement the tea — these can be made ahead of time using inexpensive ingredients you find at the store, like crust-less cucumber sandwiches or miniature scones.