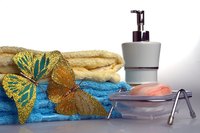 In the United States, contents coverage is often bundled with your homeowners insurance policy or sold separately as renters insurance. In the United Kingdom, contents insurance is its own policy for both homeowners and renters. It can be more difficult to properly value home contents than the buildings itself, and therefore contents insurance customers face an increased risk of being underinsured for their belongings than those with a bundled homeowners package.
Average Coverage Amount
Taking figures from MortgageIntroducer.com and The Motley Fool, the average amount of contents insurance coverage in the United Kingdom varies between £29,000 and £35,000. This may seem like a lot, but the same sources also report that the average value of a home's contents range from £38,000 to £44,500. This means that the average home in Britain is underinsured. If you must file a claim under your contents insurance policy, and your insurer finds that you do not carry adequate insurance limits, you may have to pay part of the claim from your own pocket.
Reasons for Discrepency
It is easy to undervalue your home's contents. If you have a policy that replaces damaged items with new ones, the replacement item may cost more than you paid for the initial item. Therefore, even if you base your contents policy on the original purchase price of your items, you still might be underinsured. Additionally, you may tend to forget how much your items truly cost you. When valuing your contents, remember every CD, every DVD, every piece of clothing and electronics you own. Add your kitchen appliances, furniture, linens, books and other items and you may find you own more than you previously thought.
Averaging
Some insurers in the United Kingdom apply a principle called averaging when they adjust contents insurance claims. This means they assess what your total coverage amount should be if you had adequate protection, compare it to the coverage you actually own, and pay you the appropriate percentage of your damages to correspond with your insured amount. For example, if you should have £45,000 of coverage but you only have £35,000, your insurer may only give you 78 percent of your claimed damages, even if you claim less than your policy's limit.
Update Your Policy
Chances are, your home's contents grow each year. Maybe you add another television, some new gadgets or even just new clothes. Especially as prices to replace these items rise, make sure the limit on your contents insurance policy stays current with your ever-expanding household. Your agent might have tools to help you determine the proper coverage amount you should have. It will help if you keep your receipts, too. Report any high-value items to your insurer to ensure they are protected in the event of a loss.