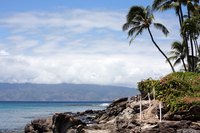 Traditionally, automobile insurance has been based on the tort system. This means that the person responsible for an accident is liable for paying the bills for himself and the other driver. Should the at-fault driver be uninsured or under-insured, the innocent driver could file a lawsuit against him. Under no-fault insurance, each driver's insurance company pays his expenses without assigning fault. The at-fault driver could not be sued for non-monetary losses. Hawaii's system of auto insurance is a modified no-fault plan, offering some of the benefits of "pure" no-fault while retaining the right to sue under certain conditions.
Mandatory Personal Injury Protection
Hawaii requires all drivers to carry personal injury protection. This coverage pays your medical bills if you are injured in an accident. It also pays the medical bills of your passengers. Your policy must provide a minimum of $10,000 per person in coverage.
Mandatory Liability Insurance
Because Hawaii operates a modified no-fault system of auto insurance, the other driver can still file a lawsuit against you should his medical expenses exceed $5,000 or to recover damages to his property. He may also sue if the accident is serious enough that someone is permanently disabled, disfigured or dies. You must therefore carry liability coverage. Your policy must provide a minimum of $20,000 per person and $40,000 for all people injured in the same accident in bodily injury liability, which in Hawaii is also called accidental harm. You must also carry a minimum of $10,000 in property damage liability.
Optional Uninsured and Under-insured Coverage
Every insurance company selling auto policies in the state of Hawaii must offer uninsured and under-insured insurance coverage. However, you are not required to carry this coverage. This type of insurance protects you if you are involved in an accident with a driver whose policy limits are not sufficient to pay your medical expenses or if he does not carry insurance. The minimum coverages you can purchase in Hawaii are $20,000 per person in uninsured motorist and $20,000 per person in under-insured motorist.
If You Fail to Comply
By law, you must carry at least the mandatory coverage and keep your valid proof of insurance card in the vehicle at all times to avoid tickets and fines. If you do not insure your car, you may be required to surrender your license plates and registration. Additional penalties apply if you drive the vehicle after this.
Optional Coverage
Hawaii does not require you to purchase collision and comprehensive insurance, although your bank or finance company can require it if you still owe them a balance on the car. Collision pays to repair your car if you are in an accident, while comprehensive pays if your car is stolen or damaged through vandalism or acts of nature. You can also purchase coverage for lost wages, death and funeral benefits, personal injury protection deductible and alternative care such as acupuncture, faith healing and naturopathy.