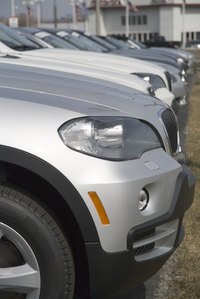 Making a living as a car salesman can be quite profitable with the right skills, but it also is a very competitive field with long hours and high quotas. The average salary for car salespeople in Virginia is respectable when compared to the national average, though actual earnings do vary by metro area.
What is a Car Salesman?
Car salesmen have a bad reputation for being pushy and persuasive. However, to earn a good salary, they have to be. The Bureau of Labor Statistics says that people's taste in cars shift dramatically. The environment is highly competitive, with commissions that affect personal earnings and company and personal sales quotas to meet. The profession is known to be very stressful and the BLS says that the number of people who leave the occupation is high in relation to other professions.
Average Virginia Salary
The Occupational Employment Statistics report lists the median hourly rate for retail salespersons in Virginia at $9.69 an hour. If we apply the same ratio given by the Bureau of Labor Statistics for the median car salesman to general retail salespersons, this should equal a median or 50th percentile salary of around $18.58 an hour or $38,650 a year.
Metropolitan Comparison
According to the Occupational Employment Statistics, retail salespeople in the greater Virginia Beach area make a median $8.99 an hour, while Charlottesville retail salespeople make a median $9.88 an hour. Richmond salespeople make close to that with a median $9.92 an hour. Keeping in mind that car salesmen average about twice the median of the average salesperson in a given area, this is a significant difference in income that depends on the metro area in which you work.
National Comparison
The Bureau of Labor Statistics lists the median or 50th percentile wage of retail salespeople working for car dealers in May 2008 as $18.91 or about $39,330 a year, which is nearly twice the median for other types of retail salespeople. This places car salesmen in the 90th percentile of retail salespeople at $38,460 annually on the national level, according to the Occupational Employment Statistics numbers for May 2009.