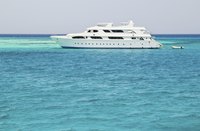 Marketing is all about businesses convincing consumers that their products are worth buying. In a world of so much consumer choice, businesses compete with one another for attention and dollars alike. Snob appeal refers to a strategy by which a business creates or promotes the image that elite, often wealthy, customers use its products.
Branding
One of the central concepts in marketing is the idea of branding, which occurs when a business promotes its brand name and works to create certain associations with that name that make it appeal more to customers. Snob appeal is often an element of branding as companies try to infuse their products with an image of quality and desirability. Branding relies on consistency and clarity. For example, a car company that frequently portrays wealthy celebrities driving its vehicles positions itself as the preferred automaker for people who have the money to buy any vehicle they choose, suggesting high quality and good taste to customers who admire the celebrities in the advertisements. Marketers frequently reinforce snob appeal advertising with increased prices.
The Halo Effect
Snob appeal permits a company to create a halo effect as part of a marketing strategy. A halo effect occurs when a company promotes a single product that stands out within the industry or generates a great deal of attention for being the first, or best, of its kind. By adopting an elite posture with this product, the company creates an "aura" that draws attention to its other products and makes them more appealing because of their proximity to the halo product. An example of a halo product is an ultra-large television display from an electronics manufacturer. Despite its impractical size and unaffordable price tag, such a product can make other, smaller sets from the same manufacturer more desirable to customers who want to buy from the company that is capable of such extreme products.
360-Degree Luxury
Another marketing strategy buttressed by snob appeal is the concept of 360-degree luxury. This refers to the idea that the truly affluent -- as well as those who wish to appear so -- should surround themselves with luxury goods, not just in the big-ticket items, but in everything. This is the case with luxury versions of common accessories such as handbags and belts. Advertisers make the case that if customers are spending large amounts of money on clothes, they should accessorize with bags and belts that are similarly expensive. This marketing strategy suggests that consumers who buy certain goods have images to maintain, which requires additional purchases.
Exclusivity
Closely related to snob appeal is the marketing concept of exclusivity, which makes products seem more scarce than they actually are. Products with designations such as limited edition, exclusive and limited time suggest that only those who act quickly will have the chance to make a purchase, placing them in an elite category that excludes those who wait. This strategy pushes consumers to make more immediate, less rational and more emotional purchase decisions. Marketers may combine exclusivity with other elements of snob appeal, such as elite branding, to increase the pressure to buy.