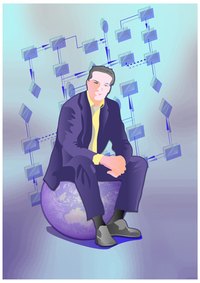 Distinctive competencies are an element of Strategic Management and are also known by the term core competencies. The term core competencies was coined in 1990 with a series of articles by C. K. Prahalad and Gary Hamel, and most notably in their 1994 book, "Competing for the Future." In their book, the authors make the case that core competencies lead directly to a competitive advantage, which in turn enables a company to launch new products and services.
Identifying Core Competencies
Prahalad and Hamel suggest three factors to help identify core competencies in any business. The first are those competencies that enable the creation of new products and services. For instance, any competencies that lead a company to open a product lines in other markets. Skills that enable a business to deliver a fundamental customer benefit are the second core competencies. Uniquely efficient delivery systems are examples. The last core competencies are "competitively unique" and should be viewed as competencies that competitors wish they had. An example would be having high manufacturing and delivery quality.
Developing Core Competencies
Core competencies are rooted in the organization's foundation and its ability to integrate and coordinate its various groups in bringing a product to market. Organizational design that promotes the sharing of competencies and allows for the utilization of those competencies is the key to a business' success. Not all resources or ideas must come from within an organization. It is possible to fill in some of the organizational gaps with key licensing agreements and/or business alliances.
External Sources
Some core competencies are created through external relationships. Strategic alliances are strategies that allows two or more companies with similar products to partner for a set period of time. Virtual integration is a supply strategy that links suppliers and customers through computer networks. Customer partnerships are creating a shared future for customers and companies where both have voice on future products. Business outsourcing is another external source in which a portion of the task to bring a product to market is completed by another business.
Implications for Management
Business managers tend to focus on getting products to market as fast as possible. Prahalad and Hamel suggest that those companies that under-invest in the building of core competencies, opportunities for the development of other core competencies are lost. These companies may be successful for a while, but will eventually stagnate.