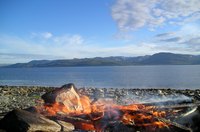 The classic image of camping usually involves a happy group of people gathered around a fire, roasting marshmallows, hot dogs and smores. Spending time around the campfire, however, need not be accompanied by unhealthy food. A few simple alternatives can make your campout snacks appetizing without contributing to an expanding waistline.
Skewers
Meat and vegetable skewers are an excellent alternative to hot dogs. Prepare the skewers ahead of time and keep them cold before cooking them on the grill. Chop a variety of ingredients, such as cherry tomatoes, purple onions, green and yellow peppers, and mushrooms, in large chunks. Thread the pieces onto wooden skewers and pack the skewers in ice, to be roasted in the evening over a hot campfire flame.
Potatoes
Cook potatoes at home in the microwave or the oven until they are tender, and pack them whole in the skin. At the campsite, cook them in a skillet with butter and oil, or stuff the potatoes with low-fat cheese, and cook them over the fire in foil as a post-hike snack.
Grilled Fruit
An unexpected and appetizing taste comes from fruit grilled over a fire. Cut peaches, plums and other fruit with a pit in half, remove the pit and grill the fruit, cut-side down. The sweet taste is as welcome as a marshmallow and better for your health.
Baked Apples
Baked apples are another sweet alternative to marshmallows with the hunger-quenching punch of smores. Core whole apples and fill the center with brown sugar, raisins and a dollop of butter. Wrap them individually in foil and place them directly on the fire embers for about 15 to 20 minutes.
Tuna Melts
Tuna can provide nutrients as well as good taste. Put bits of canned tuna on crackers, top the tuna with low-fat cheese and cook the tuna-topped crackers over your campfire grill.