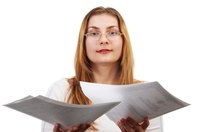 Some recipients of Social Security disability benefits may not have enough money to satisfy all of their debt obligations after they become disabled. Seeking bankruptcy protection is a viable option for debt relief under certain circumstances. Whether or not a person is receiving disability benefits is not a factor in determining eligibility because everyone must meet the same requirements. Typically, in Chapter 7 bankruptcy, benefits can't be seized to pay creditors. However, with Chapter 13 bankruptcy, the payments may be used to calculate the filer's income when establishing a repayment plan.
Social Security Disability
Social Security Disability Insurance is provided by the federal government to employees who are not able to work due to a disability. Eligibility requirements include the person having a medical condition that prevents him from working for at least one year or having a medical condition that could lead to death. The person must have worked for a certain period of time prior to becoming disabled. The work requirement varies depending on the person's age. The benefits help people cover basic living expenses. In accordance with the Social Security Act, Social Security payments cannot be levied, attached or garnished. As a result, creditors cannot retrieve a person's Social Security benefits to pay debts.
Means Test Calculations
The Bankruptcy Abuse Prevention and Consumer Protection Act of 2005 created a means test to determine if a person qualifies for Chapter 7 bankruptcy. Chapter 7 bankruptcy is available to people with an income at the same level or less than their state's median income level for their household size. A person's living expenses are also considered when determining if they qualify for Chapter 7 under the means test. Social Security disability payments are not included as a source of income for means test purposes. As a result, Social Security benefits are not a factor in calculating whether a person is eligible for Chapter 7 bankruptcy.
Exemptions
Claiming exemptions in a bankruptcy case prevents the trustee from taking possession of certain assets and using them to pay creditors. Allowable exemptions are usually associated with sources of income or the type of assets that are considered essential in helping a debtor maintain a certain standard of living. Debtors have a right to receive disability benefits and those benefits are exempt. Whether a person can choose between state or federal bankruptcy exemptions depends on the state where the bankruptcy case is filed.
List Benefits in Bankruptcy Case
Inform the bankruptcy court of the amount of monthly disability benefits received. Claim the applicable exemption for the benefits in the bankruptcy case. Even though Social Security disability benefits aren't a factor in determining if a person qualifies for Chapter 7 bankruptcy, the benefits are a factor when the debtor is creating a payment plan for Chapter 13 bankruptcy. The trustee will consider the benefits as a source of income when assessing if the debtor has enough money to complete a Chapter 13 payment plan.