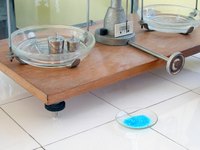 Medical biology is the cornerstone of modern health care. From the molecular mechanisms of a virus to the population dynamics of the malaria parasite, a medical biologist undertakes research to understand human diseases, their causes and treatments, in order to improve human health. A medical biologist may conduct general research or specialize in a single area, such as immunology or oncology. His salary varies according to the circumstances of his employment.
Average Salary
In a salary survey conducted in May 2009, the Bureau of Labor Statistics concluded that the mean annual salary for a medical scientist, such as a medical biologist, was $84,760. This rate is equivalent to a monthly income of $7,063 or an hourly pay rate of $40.75. The salary for the median 50 percent of practitioners was listed at $74,590, while the top 10 percent bracket of earners received an average of $138,840. Their lowest-earning counterparts received $41,320.
Salary by Industry
A key factor in the variations of salary paid to medical biologists in the United States is the industry sector in which they are employed. The Bureau of Labor Statistics reports that positions within the federal executive branch were compensated at an average level of $111,810 per year. This compares favorably with the salary levels listed for medical and diagnostic laboratories -- $107,490; general medical and surgical hospitals -- $76,520; and colleges, universities and professional schools -- $65,040. Scientific research and development services offered biologists $92,130 per year on average.
Salary by Location
The May 2009 data produced by the U.S. Bureau of Labor Statistics also demonstrates how geographical location can impact a medical biologist's wage level. It shows that while Vermont, New Jersey and Illinois head the table when it comes to average salaries -- $120,850, $112,870 and $111,870 respectively --other states trail behind. For instance, California offers an average salary of only $88,140 while Washington is listed at $71,270.
Prospects
The U.S. Bureau of Labor Statistics expects employment opportunities for medical scientists of all specialties, including medical biologists, to increase by around 40 percent in the years between 2008 and 2018. This rate is much faster than the average across all occupations (predicted to be between seven and 13 percent over the same time scale). The growth of the biotechnology industry and increased research into diseases such as AIDS, cancer and avian flu are cited as major reasons for the increase. As such, medical biologists should continue to achieve excellent compensation packages.