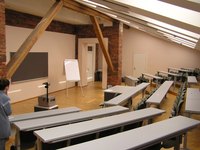 Competition for teaching jobs is often quite fierce, and you may feel like you've sent out hundreds of resumes. Put some thought into each element of your resume when looking for a beginning teaching job, to communicate all of your best points and raise the chance that a specific school sees you as a good fit. State your preferred type of teaching job, but make it clear what other jobs you are qualified for so they won't overlook your ability to teach art because they think you're only a gym teacher.
Sections to Include
As with all resumes, start with your name and contact information. Follow that with your objective. This is the place to state your preferred type of teaching position you are looking for. It is good be more specific than the general "position as a teacher," but since you are looking for an entry-level position, you don't want to be so specific that you limit your chances to find a job at all. The best objective for a new teacher would list the grade levels you specialize in, as well as any other specialty you studied. Next, list your education. This is a critical section for a teacher just starting out, so be as specific as possible. List anything unique about your education, including an above-average grade point average and anything distinctive about where you did your student teaching. Follow this section with a list of job experience. If you have no teaching experience, list other jobs you've had and highlight any experience that might be relevant to working with children, such as summer jobs as a lifeguard or a summer camp. Regular babysitting might even be relevant, but be specific as to ages of children and frequency. If you have no teaching jobs to list, consider adding a section listing volunteer experience if you have worked in children's programs at your church or in another volunteer capacity.
Format and Style
There are several formats for a resume, but the reverse chronological format is best for anyone with little experience. Anyone glancing at this kind of resume has an instant idea what experience you have without having to read every word. Include sections for job experience and education, and list entries in each section in reverse chronological order, with the most recent first. The style of your resume, including font, paper choice and general layout, is more a personal choice. It's okay to use an unusual font for the heading or your name, especially if you are applying for a job teaching younger children. Keep readability in mind and get the opinions of some people you respect before you send it out, to make sure you don't go overboard on the style.
Keywords and Buzz Words
Schools may be looking for teachers with specific experience or skills. And if you submit the resume electronically, a resume may come up because it matches keywords a prospective employer is searching for. This makes it important to include words describing anything you have experience with or interest in, such as a specific teaching philosophy or learning process. Do you have experience teaching phonics or whole language reading skills, or have you used a smart board? What grades do you prefer to teach? These are specifics you want to include somewhere in the resume. If you are responding to a specific ad, or have knowledge about a specific school district, make sure you put relevant language on your resume.
How to Stand Out
You will stand out more for unique qualities than for an unusual-looking resume. List any awards or honors you have earned, anything that shows leadership skills and anything that makes your student teaching experience stand out from the average. If you can speak a second language fluently or if you have above-average computer skills, be sure to highlight these. Research the school district you are applying to and try to find any matches or relevant experience to highlight.
Stretching the Length
As a beginning teacher, you may find that you have a short list of job experience and your resume does not fill a full page of paper. Even if you submit an electronic resume, there is a good chance a prospective employer will print a hard copy, so give some thought as to how to fill out the page. Add sections such as interests and activities, include a list of specific skills, even if they might not be completely relevant, such as the ability to play a specific musical instrument or an unusual travel experience. Use separate lines for items that you may have on the same line; for example, put your street address on a separate line from your city, state and zip code, and then list your email address and phone numbers each on a separate line. In your job experience and education section, list the relevant dates on their own line, as well as the job title, with a description below that. Consider using a two-column format with subheadings on the left and the rest of the body indented, since this format will further stretch out the length of your text.