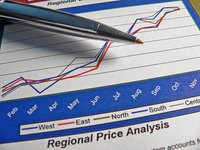 Financial directors play important roles at their companies. They are in charge of company finances, or work with the executive in charge of finance to make sure the company remains as profitable as possible. Financial directors typically have a degree and professional experience in accounting or finance.
Approve Company Budgets
Finance directors are responsible for approving all company related budget plans. Project managers who create project plans typically also include a proposed budget for the project. It is the duty of a financial director to review and approve of the budget based on available company budget and potentially profitability from the project. Financial directors also approve proposed annual or quarterly budgets for various departments in the company, such as marketing or development. Department or project managers should communicate regularly with financial directors to ensure their particular department or project remains on budget as work progresses.
Forecast Revenue
Financial directors are also in charge of forecasting company revenue for a year, quarter or month. They base their forecasts on previous revenue for the same time period, industry trends and new products or services the company is launching that will impact overall revenue. The revenue forecasts help determine the company budget for the same time period, as well as planned expenses and other financial decisions. A good revenue forecast helps the company understand how much profit to expect over a given time period, which helps companies plan various projects and upcoming tasks for that time period. For example, if a revenue forecast is low and the financial director is not expecting much of a profit during a specific time period, the company will trim back expenses during that time period to offset the low expected revenue.
Report to CEO and Board of Directors
A financial director's duties also include creating presentations and presenting them to company executives and the board of directors. The financial director will compare financial figures, such as projected revenue compared to actual revenue, and explain any discrepancies in the data. The financial director needs to be able to communicate at a high level about various company finance information, such as ways to trim expenses during a recession or good company investment opportunities to turn a surplus into a profitable investment.
Manage Finance Department
Financial directors are also in charge of managing the employees in the finance department. Some small companies will only have the financial director, though other companies often have additional employees who work in the finance department and report to the financial director. For example, the controller at a company is in charge of employee payroll and expense reports, while the treasurer manages the company budget and money. It is up to the financial director to manage these employees and meet regularly with them to ensure the proper work is being done efficiently and correctly.