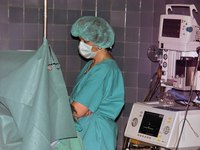 With about 30,000 employed registered nurses (RNs), Boston has the fifth largest number of RNs of all U.S. cities, according to the Medical Resource Group. RNs in Boston have a wide range of factors that affect how much they make, including training, experience and responsibilities.
2009 Median Salaries
According to the Bureau of Labor Statistics (BLS), the median annual salary for RNs in Boston-Cambridge-Quincy, Massachusetts-New Hampshire, was $80,470 as of May 2009. The middle 50 percent earned between $64,360 and $103,320. At the low end of the pay scale, 10th percentile RNs earned $54,360, and at the high end (90th percentile), RNs earned $126,020. The median salary was slightly higher in the area designated as the Boston-Cambridge-Quincy, Massachusetts, NECTA Division (a census boundary), at $86,240, with 50 percent of RNs earning between $68,000 and $108,780.
Current Salary Data
As of January 2011, the website PayScale.com reports that Boston is the 11th highest paying U.S. city for RNs, with an hourly rate range of $26.84 to $36.37, corresponding to an annual salary of $55,827 to $75,649. Indeed.com reports the average salary for currently listed RN jobs in Boston is $79,000.
Advance Practice Nurse Salaries
RNs who have a master's degree can become an advance practice nurse and earn more. According to Indeed.com, the average annual salaries for advanced nursing specialties in Boston include Nurse Practitioner, $100,000; Certified Registered Nurse Anesthetist, $114,000; and Clinical Nurse Specialist, $86,000.
Considerations
In many Boston health care facilities, RNs are represented by the Massachusetts Nurses Association union, which negotiates salaries and other benefits.