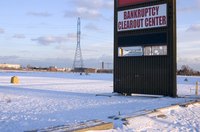 In the economic downturn of the late 2000s, many nonprofits found themselves in the same difficult financial straits as other Americans. Donors who were feeling the squeeze reduced or suspended donations, and many corporations scaled down or curtailed spending on grants and charitable gifts. While a number of nonprofits found a way to make things work by cutting services, scaling down staff, relying on more volunteers and the like, some were unable to go on and had to close. Yet, they still needed to pay their creditors.
Types of Bankruptcy
Americans are familiar with the concept of personal bankruptcy and corporate restructuring or liquidation, but it is not common knowledge that nonprofits can also declare bankruptcy. As with any business, nonprofits can declare either Chapter 11 or a Chapter 7 bankruptcy. The decision on which type to pursue depends on the individual situation of the nonprofit and its creditors.
Frequency
According to a February 19, 2009, article in the "New York Times," bankruptcies among nonprofits has never been common, because most chose to close instead. Yet, that has changed. More than one Catholic diocese sued by the victims of sexual abuse by priests had to declare bankruptcy due to large judgments levied against them. Some hospitals have also had to declare bankruptcy. These institutions served a vital function in their communities and could not close, so bankruptcy was the only route. In 2008 and 2009, several regional theater companies and music performance groups also declared bankruptcy.
Chapter 11
Chapter 11 bankruptcy allows a nonprofit to restructure its debt while remaining in business. All of the assets needed to stay in operation remain with the nonprofit, and staff members do not lose their jobs. Donations and income are not directly affected. The nonprofit, its creditors and the court negotiate a plan that repays outstanding debts. Often, this also involves restructuring on the part of the nonprofit, including changes in business model and policies, as well as cuts in expenditures. All three parties must agree and sign off on the reorganization, restructuring and repayment plan.
Chapter 7
If the nonprofit and its creditors cannot reach an agreement, the nonprofit no longer wishes to stay in business, or the nonprofit cannot repay its debt, it declares a Chapter 7 bankruptcy. In a Chapter 7, the nonprofit ceases operations and sells all assets (liquidation). After liquidation, the court distributes proceeds of the sale among the creditors. Once completed, the court discharges the nonprofit from all debts included in the bankruptcy documents.