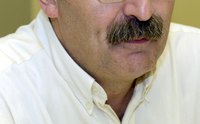 To grow a mustache is a bold step and makes a big statement about who you are and how you want to look. There are many types of mustaches--some are extremely prominent and others much more subtle. Men who have worn mustaches and have been known for them include many prominent people such as Frank Zappa, Charlie Chaplin, Salvador Dali, Walt Disney and Clark Gable.
Handlebar
The handlebar mustache is a straight long mustache that is long enough to curl the ends upward. These are usually held in place by using styling wax. There is also the petit handlebar, which works on the same principle but is a smaller version. Famous men who have sported the handlebar mustache include basketball player Rollie Fingers, Archduke Franz Ferdinand and the artist Salvador Dali.
Fu Manchu
The Fu Manchu is the opposite of the handlebar in that the hair is trained to grow downward into long, neatly styled points that often reach down to the jaw line or in some cases are longer. Famous Fu Manchu wearers include Hulk Hogan and Ming the Merciless in "Flash Gordon"; John Travolta has experimented with this style.
Walrus
The Walrus, famously sported by Tom Selleck, is a large bushy mustache that covers the top lip and often covers the whole mouth. Another famous wearer of the Walrus was Albert Einstein. This mustache needs less grooming as it can just be combed through and a little wax applied to keep it in shape.
Toothbrush
The Toothbrush mustache has fallen out of favor since Adolf Hitler famously used this style. This mustache is thick but shaved only about an inch wide and sits just on top of the upper lip. Charlie Chaplin also wore this mustache.
English
The English mustache is divided in the middle, just above the top lip. Long thin bars are carefully waxed and taper toward each end. This mustache generally goes about three-quarters of the way across each cheek. The English gives the impression of an upper-class English gentlemen. This mustache was famously worn by William Shakespeare.