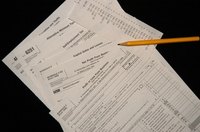 The term "S corporation" is simply a tax designation granted by the IRS to qualified corporations who apply for it. Many small businesses choose to organize themselves as corporations and petition the IRS for "S" status, because of the tax advantages of doing so. Additionally, many limited liability companies (LLCs) choose to be taxed as S corporations.
Eligibility
To qualify for S corporation status, a corporation can have no more than 100 shareholders. If it adds a 101st shareholder, even in the middle of the tax year, it will automatically lose S corporation status. An S corporation may not be an insurance company or a domestic international sales company, and certain types of financial institutions are excluded. Its individual shareholders must be U.S. citizens or permanent residents, and it must be organized under the laws of a U.S. jurisdiction. It may not accept partnerships or corporations as shareholders, and it may issue only one class of stock. Qualifying corporations and LLCs can routinely obtain S corporation status from the IRS by filing Form 2553.
Pass-Through Taxation
The income of an S corporation is said to "pass through" the corporation directly to shareholders. This means that the IRS will not treat an S corporation as a separate entity for tax purposes. This contrasts with IRS treatment of other corporations (known as "C" corporations), the income of which is taxed at corporate income tax rates, and then taxed again when it is distributed to shareholders and employees.
Retained Earnings
Even though S corporations are not subject to double taxation, they cannot shield their shareholders from taxation by failing to make distributions to them. S corporation profits will be assigned to individual shareholders in proportion to their shareholding percentages. If you own 30 percent of a corporation with a taxable income of $1 million, you will be taxed on $300,000, at individual income tax rates, even if the corporation declared no dividends and you received no income from the corporation that year.
Payroll Taxes
In many small businesses, the employees themselves are major corporate shareholders. In such a case, the shareholder-employee has two sources of income from the corporation—salary and distributions. Salary is subject to FICA taxes (Social Security and Medicare), while corporate distributions are not. Thus, if you are a shareholder-employee, it might make sense for the corporation to pay you a low salary and compensate with generous distributions. The IRS has warned, however, that S corporations must pay reasonably high salaries to their shareholder-employees or face an IRS audit.