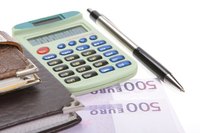 The benefits of a budget are many -- use a budget to plan a vacation, save for retirement or track spending to live within your means. The advantages of budgeting may vary from household to household, but all budgets follow a similar format. Sticking to a budget will give you an overview of your spending habits and allow you to redistribute your discretionary spending to goal-specific areas.
Live Within Your Means
Empower yourself by tracking your spending with a monthly budget. A budget offers a means of control and accountability of your finances. Consumers may differ in the food they like to eat or the movies they like to see, but patterns in spending emerged. As of 2010, the average American spent 34.1 percent of their income on housing, 7 percent on utilities, 5.7 percent on health care, 1.9 percent on education, 5 percent on clothing, services and personal care, 5.4 percent on entertainment and 12.4 percent on food, according to Visual Economics. A monthly budget will reveal if spending in any one category becomes excessive, thereby allowing you to reign in the spending.
Meet Your Financial Goals
Discretionary income (money remaining after essential expenses have been paid) can be targeted for personal goals within your household budget. Achieve short-term goals, such as paying for soccer practice, by spreading the expense over several months. For long-term goals, such as retirement or an expensive vacation, divide the sum total into monthly or annual payments deposited into a savings plan for the number of years needed to achieve the goal.
Turn Your Back on Your Credit Cards
For many, an unexpected home or car repair forces them to turn to their credit cards. A well thought-out budget will benefit you when unexpected expenses occur. Create categories in your monthly budget for home and car repair expenses by examining the past years' costs in those areas and dividing by 12. Budget in items paid for semi-annually or annually; while expected, they may be forgotten until due. These items include property taxes, tax preparer fees, life or car insurance and vehicle registration expenses. Set aside additional monthly money in the budget for a career change or in the event of job loss. Allocating money within the budget to pay down debt will enable you to take control of your financial future, rather than pay interest to the credit card companies.
Expert Insight
CNN Money suggests using a finance program, such as Quicken or Microsoft Money, to create your budget and track your spending. These software programs have tools that enable you to personalize your budget and allow you to easily modify and total figures or categories.