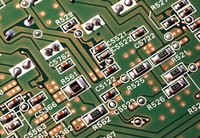 Stationary office equipment is a generic term for the different types of static tools that are installed in an office that enable employees to perform their daily tasks. For example, a printer is a piece of equipment that has an allocated position in the office and shared between colleagues. The stationary equipment that is required in an office depends on the precise business; however, most offices share similar items such as printers, scanners and computers.
Printer, Photocopier and Scanner
To run an office a printer, photocopier and scanner are necessary. These items enable the employees to produce documents successfully without having to outsource the services the equipment supplies at a greater cost. A printer is used to replicate a document, such as a presentation for reference during a meeting, or a promotional flier for to customers or clients. Organization is an important characteristic of a successful office and a scanner enables the business to scan and file documents without the need for multiple files and folders.
Communication Equipment
Telephones are also important so that the office can communicate internally and with outside parties. They allow the office to order stock, contact customers and set up meetings with other employees or other businesses. Offices in the sales industry particularly require phones to call prospective clients. A fax machine is also a required piece of stationary equipment for offices that quickly require hard copy and dated paperwork, such as signed contracts or agreements.
Computer and Peripheral Devices
Computers are an essential type of equipment required in an office environment. Computers are not only the focal point of employees' work desks so that they can send and receive emails, produce typed documents and do research, but also enable them to perform specialized tasks, such as editing and graphic design. The peripheral devices associated with a computer include a webcam for meetings and linking up with colleagues working out of the office, an external hard drive for backing up information, a pen tablet and a microphone.
Other Items
An office that handles confidential information needs a shredder to avoid the information being misused. Offices have files containing human resources information, resumes and wage paperwork from employees, so the shredder is vital to destroy this once employees have left. Other stationary equipment required in an office includes coffee- and tea-making machines and a fridge for milk and lunches. It is also necessary to have equipment for filing documents, such as bookshelves in a library area. A station for recycling waste is important to keep the company environmentally friendly and organized.