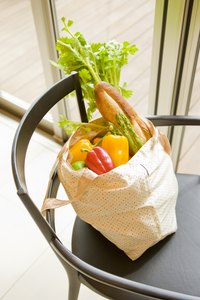 FoodShare Wisconsin, the Wisconsin food stamp program, bases eligibility on Federal Poverty Level guidelines. These amounts change annually, and are available for viewing in the ForwardHealth Enrollment and Benefits Handbook that Wisconsin publishes each year. In addition to the income-based requirement, each applicant must be a U.S. citizen or qualifying immigrant, and a legal resident of the state.
Income Eligibility Guidelines
Income eligibility guidelines consider gross and net monthly income. The maximum qualifying gross income is 200 percent of the Federal Poverty level according to your family size. For example, the gross income limit -- the amount you earn before subtracting taxes, payroll deductions and applicable income credits -- for a family of four through Sept. 2015 is $3,976. The maximum qualifying net monthly income is 100 percent of the Federal Poverty level according to your family size. For a family of four, the amount through Sept. 2015 is $1,988.
About Income Credits
Income credits are allowances for some of your monthly household expenses. These credits are used to calculate your net monthly income. Available credits include:
The standard credit available to all applicants based on family size
An employment credit of 20 percent of your gross monthly income
A medical expense credit for monthly medical expenses exceeding $35 is available to blind or disabled people and to people over 60 years of age
A credit for the full cost of any dependent care is available if you work or attend school
A credit for the full amount of court-ordered child support payments
A shelter credit that deducts utilities such as heat, electricity, water and your telephone bill -- for most families the maximum credit for 2015 is $490
Work Requirement
Every person in the home between 16 to 60 years of age must register for work unless excused by a work exemption. For example, a person caring for a child younger than six years old, a person receiving unemployment benefits and a student attending school at least part-time are excused from registering for work. In addition, most adults between 18 and 49 years of age with no minor children must meet an 80-hour work requirement each month. The requirement can be met either by working, attending a qualified training program or a combination of both options.
Criteria for Emergency Situations
According to the Wisconsin Department of Health Services, the time frame for processing an application can decrease from an average of about 30 days to seven days if your situation meets the definition of an emergency need. To qualify as an emergency, you must one of the following criteria:
Have no more than $100 in a bank account and expect to receive no than $150 of gross income in the coming month
Have housing or utility costs that exceed your gross monthly income
Be a migrant or seasonal farm whose work has stopped for the season