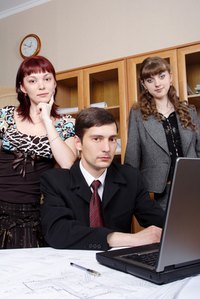 Workplace growth and development are commonly considered a joint responsibility of both the employer and the employee. Career development is an element that is generally overseen by the human resource department of an organization. However, employees, managers and supervisors must also play a role for workplace growth strategies to be effective. Workplace growth and development is an essential management function which has many benefits for both the organization and individual employees.
Workplace Growth
Workplace growth is used to develop individual work skills to ensure all workers meet a minimum required skill level. Workers who maintain the skills required to complete day-to-day tasks are more confident in their abilities to do their jobs well. This confidence increases job satisfaction, which then increases retention. Workplace growth may be executed to meet overall strategic goals, or it may be implemented by an individual supervisor who recognizes a lack of skills needed to complete day-to-day activities effectively and efficiently.
Career Development
Career development includes the implementation of additional training to advance learning about topics which usually lie outside the worker's typical day-to-day duties. For example, an entry level employee might attend management training courses to obtain skills which will be necessary for that worker to advance into a higher level position within the organization. Additionally, non-financial managers may undergo training in financial aspects of management to broaden their individual understanding of the overall business.
Types
Workplace growth and development may be formal or informal, self-directed or other-directed. Formal training takes place in the form of purposely developed training programs and initiatives while informal training can be as simple as a group of co-workers talking about work processes around the water cooler. Self-directed learning is initiated by the individual to be trained while other-directed training takes place at the behest of a supervisor, manager or other leader.
Considerations
Workplace growth and development should be implemented as part of an ongoing strategic management plan. It should also be in alignment with the overall strategic goal of the organization. It is also important to balance the needs of the organization with the individual career goals of the employee. The employee's long-term career belongs to the employee. Workplace growth and development programs are most effective when company leaders are able to align individual employee career goals with the overall strategic goals of the organization.