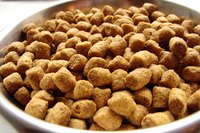 For many people, pets are valued members of the family. When times get tough, sometimes just finding ways to get food on everyone's plate is very tough. This is a time when some people, much as they may hate to do it, may consider surrendering their pets to shelters because they can no longer afford to feed them. If you are in that situation, or know someone who is, there's a way to help keep the whole family together -- including the pets. Several charities exist that offer pet food assistance to low-income people.
Humane Societies
Local humane societies in your state may offer pet food assistance programs for low-income residents. Simply enter the words "humane society" and your state's name in your favorite search engine. A list of results will appear, so you can contrast and compare the various humane society offerings in your area. Note that most states have multiple humane societies that each cover a certain area within the state. For best results, contact the humane society that is closest to you to see if they have a pet food assistance program available. Chances are good that even if they do not, they will be able to point you in the direction of an organization that does.
Other Local Pet Charities
Searching "pet food banks" and your town or state name may yield a different set of results. For example, FloridaPets.net features a list of area-specific food pantries that are geared toward providing pet food to qualified low-income people. The city of Cincinnati has its own pet food pantry as well. Until and unless you need them, you may not know that these charities exist in your area -- but it's good to know that they do. Such organizations may be operated by local shelters, pet supply stores or simply concerned pet-loving citizens.
National Organizations
The Humane Society of the United States does not operate a network of pet food pantries as of January 2011. However, it and other national organizations, such as the Petco Foundation, donate money to worthy state and local animal welfare groups around the country. Typically, these organizations have forms that must be filled out and submitted for consideration. Your local shelter or pet food bank needs to know about these in order to apply, so it doesn't hurt to let them know. Organizers may already be aware of the grant opportunities such programs offer, but no one knows everything, and your passing on the information to a local volunteer effort will benefit you if you ever find yourself in need.
Food Pantries
Pet food pantries aren't the only places that offer pet food assistance for people in need. Nationally, Meals on Wheels operates a program called We All Love Our Pets, sometimes abbreviated on Web pages to WALOP. Not all local Meals on Wheels programs offer this service, so it is important to check to see if the one in your area does. However, other food pantries geared toward people food may also stock pet food. When in doubt, check with the food pantries in your area to see if this is a service they offer. Even if you do not need food donations for the human members of your family, this may be another option for feeding your animal companions.