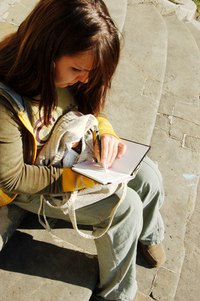 Biochemists study living cells and organisms. They research reproduction, growth, heredity and metabolism in living organisms. A biochemist might study what effect various foods, drugs and hormones have on an individual. Biochemists usually need a Ph.D. for independent research, and a bachelor's or master's degree is necessary for positions in product development, inspection and applied research. College courses in chemistry, biology, mathematics, physics and computer science are typically recommended for a degree in biochemistry. Students can also prepare for a major in biochemistry by taking organic chemistry, inorganic chemistry, physical chemistry, genetics and ethics in science.
Biology
Courses in general biology, including lab work, are recommended for a Bachelor of Science in biochemistry. Introductory general biology courses cover modern biological principles and processes for organisms. Topics include the evolution, ecology, behavior and diversity of organisms. The second-year general biology course usually covers the structure, function and metabolism of a cell, along with genetic biochemistry. A laboratory course typically accompanies biology courses.
Chemistry
Introductory chemistry courses on the college level deal with fundamental theories, laws and principles of chemistry. Students learn about atomic structure, chemical bonding and periodic classification of elements. In addition, coursework includes associated lab time to investigate solutions, equilibrium, reaction kinetics and the chemistry of ions. In the second year, general chemistry students learn about molecular structure, physical and chemical properties, stoichiometry and energetics. Lab work accompanies both courses.
Math
Calculus 1 is recommended to students who wish to study biochemistry. This course features topics such as slope, including the slope of a curve. Students also learn about the equations of lines, the rate of change of functions, derivatives of functions and analytic geometry. In calculus 2, undergraduates delve into transcendental functions, methods of integration and infinite series.
Physics
A college physics course targeted toward science majors like biochemistry majors is based on calculus and is usually available to the student upon completion of calculus coursework. Topics covered by the basic physics course include units and dimensions, forces and motion, mass, energy, rotation and thermodynamics. Subsequent physics courses deal with waves and sound, optics and electrical forces. Other topics included in general physics courses are magnetic forces, electromagnetism, special relativity, quantization and modern physics. Lab work is a corequisite for physics lecture courses.