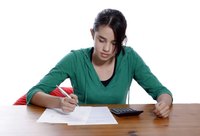 Doing taxes is something few people look forward to. The current tax code contains more words than the King James Bible, and at times it seems far more complicated and difficult to understand as well. With such complexity, it is no wonder so many people pay hundreds of dollars to have their returns professionally prepared. Tax preparation software like Turbo Tax can make the tax filing process easier, and for many people it can eliminate the need to pay a professional tax preparer.
Start for Free
The basic version of Turbo Tax is free, allowing you to complete a simple return and submit it electronically at no cost to you. If your return turns out to be too complicated to use the basic version, Turbo Tax gives you the opportunity to upgrade to a higher version. You can prepare your return for free, only paying when you actually complete and file the return. This makes it easy to try Turbo Tax and make sure it is right for you. The program is very intuitive and easy to use, and it provides support for a wide range of tax situations and tax forms.
Many Options
Turbo Tax comes in a variety of different formats, designed for many tax scenarios and individuals. The basic version of Turbo Tax is the perfect choice for simple tax situations like those that can be completed on the one-page 1040-EZ form. More in-depth versions of the program provide support for home businesses, rental income, self-employment income, investment sales and home sales. Turbo Tax even includes a lookup tool to help you determine the cost basis of stock you sold, based on the purchase price of those securities.
Easy Import
One of the most useful features of Turbo Tax is the ability to directly import your 1099-INT, 1099-DIV and other income documents from your banks, brokerage firms and other financial institution. During the tax reporting process, Turbo Tax offers you the ability to bring that documentation into your tax return by entering your user name and password for the site. The financial data is then imported and placed on the appropriate tax forms.
Complicated Returns
While Turbo Tax can be a good tool for filing your taxes, it is a good idea to seek professional guidance if you have an unusual or complicated tax situation. Turbo Tax does provide support for many tax scenarios and virtually all types of income, but having the finished return reviewed by a tax professional could reveal tax deductions you missed or help you find red flags that could trigger an audit. If you feel your tax return warrants an extra look, do not be afraid to take your finished return to a certified public account or enrolled agent to have it thoroughly reviewed.