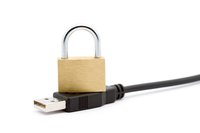 The role of an IT manager and technology varies with the size and function of an organization. Technology applies science to practical problems in business and industry with the goal of improving profitability. Applying technology could mean adding automation, such as robotic systems or numerical control processes. In some organizations, adding technology addresses improvements in information sharing and decision making using technology-based solutions. According to the U.S. Department of Labor, IT managers' responsibilities include planning, coordinating and directing an organization's computer-related activities.
IT Manager's Strategic Role
Strategic thinking requires projecting an organization's needs and activities several years into the future and building capabilities to meet those needs. Organizations expect IT managers to have knowledge of technology trends and assist in strategic planning to incorporate new technologies into acquisitions and training. Other areas of corporate management that depend on the strategic knowledge of IT managers include data security, quality initiatives that use technical solutions and assessment of competition in applying technology. Expect the IT manager's integral involvement in assessing corporate strengths, weaknesses, opportunities and threats – SWOT analysis – from an information technology perspective.
IT Manager's Tactical Role
The IT manager interacts with project managers to help define project scope, schedules, budgets, priorities and milestones. She assists in developing department procedures and working with stakeholders. The IT manager communicates regularly with senior management on status and issues for all IT projects. In some organizations, the IT manager directs the project management office and approves hiring and promotions of IT personnel. Risk mitigation and resource management among IT projects fall under the IT manager's purview.
Automation Decisions
Automating a manual process in a cost-effective way requires technical knowledge and understanding of business principles. Technologists and IT managers consider initial, training, maintenance and replacement costs of automation compared to benefits before recommending a technology-based approach. IT managers may be tasked with collecting performance measurements on automated processes.
Selecting Information Tools
The IT manager provides senior management with recommendations on information technology hardware and software purchases, outsourcing IT information functions and knowledge management systems. Depending on organizational policies, the IT manager may have sign-off authority for purchasing IT information and project-support software exceeding a threshold amount. The IT manager maintains documentation and reports on the return-on-investment for IT information tools and training. He may work with other departments to help select information and content management software.