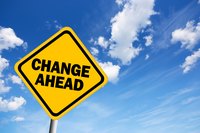 In a world where industry standards, government regulations and technological capabilities can shift overnight, businesses must learn how to manage change. Change control procedures are crucial for maintaining a thriving business. However, since the creation of effective change control methods involves effort and documentation, many businesses put off such activities until changes grow into crises. Businesses that have efficient change control methods in place can navigate through necessary changes and improve their position in their industries.
Define the Change
Project managers must identify the change before they can address how to control its effects. Internal sources of change can include personnel changes, budget restrictions and schedule updates. External changes can stem from government regulations, industry standards and customer demand. For example, an auto manufacturer faces an internal change when a project's lead engineer leaves the company. The project can also face an external change if a new regulation passes requiring that new cars meet specific gas mileage standards.
Assess Impact
Any project change will have an impact on the project manager's ability to keep the work on time and under budget. An impact assessment shows how these changes will affect the project, including changes in the project scope, work schedule, labor and materials costs and overall quality of the end product. In the automaker example, the need to increase fuel efficiency to meet government regulations will require an impact assessment on the costs and time frame for completing the new car design.
Get Management Approval
The project manager submits the change requests and the impact assessment to management for approval. Management must examine the reports to determine if the resources are in place to accommodate the changes or if the project should be modified or scrapped altogether. For the auto maker faced with new fuel efficiency regulations, management may examine the impact assessment and calculate that the demand for such a car is sufficient to justify an increase in the budget to accommodate the changes, or they may determine that the costs involved in making the changes are too great and scuttle the project.
Create Testing Plan
Once the change plans have been approved, the project manager can create a testing plan to determine if the proposed changes satisfy the new conditions. If the new product passes all the required tests, then the company can implement the new product features on a larger scale and prepare to release it to their customers. The auto maker in the example can conduct wind-tunnel and road tests to see if the engine design meets the fuel efficiency requirements before preparing it for the manufacturing process.