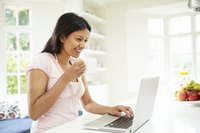 Managing your personal finances can be difficult, especially if you're only using a spreadsheet and inputting everything by hand. Getting the right software application can make a big difference when it comes to managing your money successfully. The ones that smoothly integrate with tax software and your banking websites are among the best.
Mint Puts Everything in One Place
Mint.com offers a free money management tool that you can access online or through Android or iPhone mobile apps. PC Mag refers to it as the Facebook of finance programs. Mint automatically puts your spending in categories to give you a better look at where you're putting most of your money. It integrates with major financial accounts like credit cards, banks and retirement and loan accounts, automatically syncing and loading your information. Mint's tools include budgeting apps and tips for getting out of debt, and it will even look at your current accounts and suggest better products, such as lower-interest credit cards.
AceMoney Offers Powerful Tools
AceMoney isn't free, but the software package provides a complete set of financial management tools at a low price. You can keep track of numerous transactions, from spending to investment, and tag them with labels such as work or personal for easier filtering. The software can export data to a number of different tax programs. One payment includes a lifetime of free upgrades.
You Need a Budget Teaches Financial Principles
You Need a Budget is a software package that costs more than AceMoney but provides more features specifically for people interested in learning more about budgeting. The program walks you step by step through setting up a budget and offers detailed explanations for why certain strategies work. The program also has tutorials and educational articles for quick reference, along with an active user community. The program's main downside is that it doesn't integrate as well with tax programs as other applications.
OfficeTime for Business Tracking
If your main concern is billable hours and business management, then OfficeTime could be a beneficial choice. The software tracks the amount of time that you spend on a project, translating it into billable hours and helping you create invoices and reports. The software has a one-time fee comparable to other programs in its class.
GnuCash is Open Source
GnuCash is a unique software program in that it's open source. This free program works on almost any platform, from Windows to OS to Linux. The program is geared toward making sure your accounts stay balanced with debit tracking and the ability to schedule and split transactions. You can import Quicken and Open Financial Exchange files into GnuCash, making it a more flexible program.