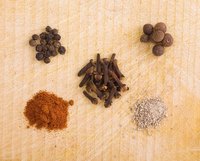 From daily multivitamins to exotic pau d'arco tea blends, the number of health supplements available on the market is vast and diverse. The Nutrition Business Journal estimates that dietary supplements in the United States are a $23.7 billion industry. The explosion of products -- and profits -- is partly due to the successful marketing plans of supplement companies.
Capture New Customers
A major objective of a health supplement marketing plan is capturing new customers. Though supplements have always appealed to consumers desiring an alternative to pharmaceutical drugs, supplement companies expand their demographic by conducting well-designed campaigns pitched to parents, business executives, college students and other groups. A business touting Echinacea pills to college students, for example, might allude to warding off sickness during midterm season. The marketing plan might also include issuing free samples on college campuses to attract new customers.
Tout Health Benefits
Part of a marketing plan includes how to pitch health claims to consumers. However, this part of the marketing plan is wrought with legal considerations. The Federal Trade Commission explains that all health claims must be tested and verified by independent research organizations. Furthermore, any claims to remedy an illness must be placed in context of how many people suffer from the illness. If the number of people who are susceptible to the illness is small, the company must disclose this information. Thus, a significant objective for any marketing plan is compliance with legal standards.
Stay Within Budget
Creators of a marketing plan should outline the budget constraints and how to allocate funds in the most efficient manner. For instance, health supplement companies might determine that attending a nutrition trade expo in health-conscious California is a better use of resources than paying for an internet banner on a vegan magazine's website.
Quantify Marketing Objectives
Charles Lamb, Joseph Hair and Carl McDaniel, authors of the textbook, "Essentials of Marketing," explain that all objectives outlined in the business plan should be realistic. A health supplement company should not expect 50 percent of statin drug users to switch to their blood-thinning herbal medication. Secondly, objectives should be measurable: An ad campaign that cost $50,000, for example, should yield a 30 percent increase in business. Time-measurability should be another aim of the plan. Because campaigns cost money, specifying the length and scope of the marketing plan is advisable for staying on budget.