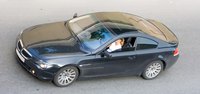 You may have to borrow a car from a relative, friend or neighbor when you do not have access to your own car. Before you drive a borrowed car, you should find out whether the car's insurance will cover you in case of an accident. Auto insurance policies differ from state to state, and some policies may not cover a non-owner driver. Depending on where you live, you may not be required to insure a borrowed car. In general, determining whether you have to insure a borrowed vehicle depends on where you live, how much you use the vehicle and what you are using it for.
Insured Person
Most auto insurance policies will cover a non-owner driver, provided the vehicle is operated with the permission and express consent of the owner. The definitions section of an auto insurance policy states who is covered, by defining the "insured person." In most cases, the insured person includes a driver who has borrowed the vehicle from the original owner, and drives the vehicle with the permission of the owner. Unless a clause specifically excludes a non-owner driver, the policy will cover the driver as long as the vehicle is operated in a manner that does not breach policy allowances. A driver who uses a borrowed vehicle with the permission of the owner, but operates it in a manner that is not allowed by the policy, will not be covered.
Frequency
Frequency of usage may also determine whether you need to insure a borrowed car. The insurance policy will consider how often you drive the borrowed car, and may not cover a non-owner driver if the vehicle is used regularly and frequently. Most insurers will cover if you drive the car once a month for only a few days. If you drive the borrowed car weeks on end, and do so regularly, the insurer may consider you a regular user. If you drive a borrowed car with such frequency, you may consider adding yourself to the original owner's policy.
Usage
You may need to purchase car insurance on a borrowed car if you do not use the vehicle in accordance with the policy. If you borrow a car to run an errand, such as buying groceries or picking up your children from school, it is not considered business use and you will not have to purchase a separate policy. However, you will not be covered by a personal auto insurance policy if you use the borrowed car for commercial or business purposes. For example, if you use the borrowed vehicle as a means of transport in your courier business, you will need a separate policy for the vehicle's commercial use.
Nonowner's Policy
If you do not own a car, yet have to drive occasionally, you may consider purchasing a nonowner's insurance policy. This is an ideal solution for drivers who do not drive their own cars, but have to drive rented or borrowed cars every so often. A nonowner's insurance policy covers any car you drive, be it a borrowed vehicle that already has insurance, or a rented one. Typical coverage includes liability, medical expenses, and coverage for under-insured or uninsured motorists. If you get into an accident while driving a car you borrowed from a friend, and the accident is your fault, the non-owner's policy would help reimburse the other driver after your friend's insurance is exhausted.