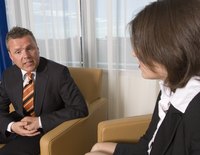 People who are interested in a counseling career are usually motivated by a strong desire to help others. In addition to personal skills such as the ability to inspire trust and respect, counselors generally must obtain at least a bachelor's degree; preferably a master's degree, and must pass state licensing requirements.
Motivation
Counselors face challenges while working with children, adolescents and families who may have multiple issues. Some clients have mental health disorders, addictions, disabilities or may be trauma victims. A counselor needs to maintain her motivation in the face of these challenges and in the event that counseling fails. Coping skills for dealing with stress not only must be taught by counselors, but must be practiced by counselors.
Education and Licensing
Education requirements depend on the counseling specialty and each specialty has different licensing requirements, according to the U.S. Bureau of Labor Statistics. Specialties may include school counseling, addictions counseling, or marriage and family therapy. A master's degree is usually required to be certified as a counselor, though people with bachelor's degrees may be able to perform more informal counseling. Coursework includes human growth and development, group work, cultural diversity, relationships, counseling techniques, assessments, program evaluation, and professional ethics. Master's programs require 48 to 60 semester hours of graduate level work plus supervised clinical experience.
Personal Skills
Counselors must possess empathy, or the ability to comprehend the thoughts and feelings of others, according to the Counselor's Guide. Counselors must be able to display positive regard for their clients, even when they are not acting in their own best interest. Respect for the client is essential to maintain rapport, but a counselor must also be able to challenge a client's statements and actions if he contradicts his goals. Active listening skills are extremely important and these are often taught and reviewed in professional development sessions.
Professional Skills
Counselors are expected to be highly proficient in computer applications since they will spend a good part of the day writing reports and assessments and analyzing data, according to the National Association of Social Workers. Counselors must follow normal office procedures, as well their organizations' ethical codes and policies and procedures.
Considerations
Counselors and other social workers must guard against burnout, according to Dannyel Nolan of Spalding University in a 2004 study for the Kentucky Cabinet for Health and Family Services. Counselors may not anticipate the amount of paperwork involved in carrying out the counseling process no matter how motivated they are. Case loads can vary greatly depending on the counseling specialization, and very heavy case loads can leave counselors feeling that they cannot help clients as they had envisioned. Still, few careers can provide the personal satisfaction counselors feel when they help another person turn her life around and begin to thrive.