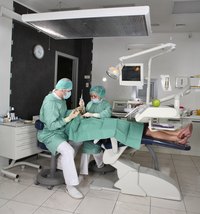 Dental assistants shepherd patients through just about every portion of their appointments. They greet them as they come in, schedule new appointments, process paperwork and insurance, prepare examination rooms and consult about oral health issues. Some dental assistants aid dentists and dental hygienists during exams and procedures. In Texas, dental assistants receive salaries slightly above the national average for the profession.
Facts
Dental assistant salaries averaged $34,000 nationwide in 2009, according to the Occupational Employment and Wages survey conducted by the U.S. Bureau of Labor Statistics in May of that year. The Lone Star State offered its dental assistants a statewide salary averaging slightly higher than the national sum, at $31,320 per year.
Range
Not all of Texas' 19,620 dental assistants earned salaries above those of their counterparts in other states. Texas' overall bottom 10th percentile of dental assistant salaries averaged $20,290 per year. At the other end of the scale, the highest-earning dental assistants in the state received salaries of $41,670 per year.
Cities
Salaries for dental assistants varied depending on location. The highest average salaries went to dental assistants in the Dallas-Fort Worth-Arlington area, at $34,160 per year, and Dallas-Plano-Irving area, at $34,370 per year. Not having a high average salary didn't preclude a city from paying the top 90th percentile wages. The College Station-Bryan area had the highest 90th percentile salary of $45,930, even though its average 50th percentile salary of $27,440 was under both the national and state averages. The cities of Beaumont-Port Arthur earned the spot as the lowest 10th percentile salary, with $16,160 per year.
Considerations
While there are no educational requirements for dental assistants, compared to associate degrees for dental hygienists and Doctor of Dentistry degrees for dentists, dental assistants may pursue secondary education to give themselves an extra edge in the applicant pool. As of 2011, Texas offers nine educational institutions accredited by the American Dental Association in dental assisting programs: Texas State Technical College at Waco, San Antonio College, Del Mar College, Grayson County College, Lamar State College-Orange, Coleman College of Health Sciences, Texas State Technical College at Harlingen, El Paso Community College and the Medical and Education Training Campus of the Air Force. Many dental assistants receive training on the job.