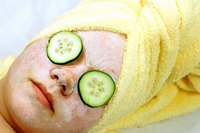 Estheticians often work in salons, spas or physicians' offices and help clients care for their skin or apply makeup. Unlike dermatologists, who treat medical conditions of the skin, the role of an esthetician is to improve the appearance of the skin through nonmedical topical treatments or massage, not to diagnose or prescribe medication for skin problems. Minnesota requires all estheticians to hold a valid license.
Education
To earn a Minnesota esthetician's license, you must be at least 16 years old, have a minimum of a high school diploma or GED and complete at least 600 hours of education and training from an approved cosmetology school. A list of approved programs can be found on the Minnesota licensing website (see Resources). Esthetician programs, which can generally be completed within two years, cover cleansing and treating skin, facial massage techniques and how to perform waxing and peels. Certain programs teach electrolysis and makeup application. Your education also includes training in proper sterilization and sanitation and how to address common skin problems.
Training
On-the-job training and practice are a critical component of esthetician training programs. You usually practice your skills and techniques on mannequins and classmates before you progress to a trainee program within the school or an associated salon. Once you graduate and earn your license, you may work as an apprentice in a salon, spa or physician's office before you build your own client base.
Exam
Before you can earn a Minnesota esthetician's license, you need to pass the required state exam. You need to pass both the national and state portions of the test, which is administered by Pearson Vue. The national portion of the test covers rules, regulations and safety; sanitation; knowledge of skin science and analysis; facials; makeup application; hair removal; and specific therapies. The Minnesota state test mostly deals with rules and regulations in regard to licensing. The exam is offered at various locations in the state throughout the year. You must preregister to take the exam.
License
Once you complete your training and pass the exam, you have three years to apply for an esthetician's license in Minnesota. If you don't apply within that time frame, you have to begin the process again and repeat the training. To apply for a license, complete the initial licensing form available on the Minnesota Board of Cosmetologist Examiners website and submit with the required documentation and fees. Your initial license is good for three calendar years from the date it's issued; you must renew your license every three years.
Reciprocity
If you're a licensed esthetician in another state, you can apply for an esthetician's license via reciprocity. You need to take the Minnesota state portion of the esthetician's exam and provide proof of 600 hours of classroom training, a passing score on the national portion of the exam and a copy of your high school diploma or GED transcript.