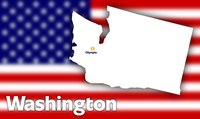 Virtually every state requires vehicle owners or operators to carry or be covered by auto insurance, and Washington is no exception. Washington state law requires residents to carry at least a minimum amount of liability insurance to cover negligent acts. Failure to provide proof of liability insurance can result in fines, as well as leave an unwanted mark on an individual's driving record.
Identification
Liability insurance is coverage that pays for damages and injuries sustained by other parties when a driver is found to be at fault. Liability coverage consists of bodily injury, which pays for medical bills incurred by the injured parties and pays for any additional amounts for pain and suffering that may occur due to a legal judgment. Property damage pays to repair or replace the other party's vehicle, as well as any other objects such as buildings and lawn ornaments.
Minimum Limits
The minimum liability limits required in Washington are listed as 25/50/10. This means that an injured party can receive up to $25,000 in compensation from the insurer, while the total amount the company pays to all injured parties is capped at $50,000 per occurrence. The most the insurer pays for property damage is $10,000 per occurrence. The policyholder must pay for any damages or injuries that exceed these minimum amounts out of his own pocket.
Additional Coverage
Carrying only the state minimum limits can leave drivers susceptible to financial catastrophe. Serious injuries resulting in large lawsuit awards could potentially bankrupt the policyholder if she's carrying inadequate amounts of coverage. The more she owns in the way of assets, the more the policyholder stands to lose if a judgment goes against her. It's advisable to carry as much liability insurance as is affordable while taking overall net worth into consideration.
Penalties
If an individual is caught driving without the minimum required liability insurance in Washington, he could face penalties. As of 2011, the minimum fine is $250, while additional costs could bring the total to $450. The citation becomes part of the person's driving record, which could affect his auto insurance premiums, as well as his ability to obtain new coverage in the future, especially if there are previous offenses on his record.