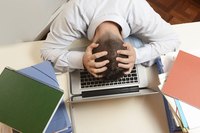 The Department of Education considers a student loan to be delinquent after a single missed payment, and in default after 270 consecutive days without a payment being made. If you find that repayment is impossible despite the many programs the government offers, you may be able to negotiate a settlement. Although a settlement compromise is never a first repayment option, the Department of Education does allow a lender or debt collector to settle your student loan debt.
Settlement Prerequisites
Settlement possibilities depend on your ability to pay. Before a lender will consider negotiating a settlement, you must demonstrate not only extreme financial hardship, but also that you have tried whatever alternate options the lender has suggested. This includes a loan deferment or forbearance and a variety of repayment plans. A settlement usually is not an option if you've been sued for repayment and the lender already obtained a judgment against you.
Repayment Period
A student loan settlement is not a repayment plan. For a settlement to be a viable option, you must have funds available to make a lump sum payment, usually within 90 days from the date it's approved. However, in some cases the Department of Education will approve monthly installments as long as you pay the full amount within the federal government's current fiscal year, which runs from Oct. 1 to Sept. 30. For example, if you receive a settlement offer in June and get permission to make monthly payments, you would have four months to pay the settlement in full.
Presenting Your Case
Whether a settlement is possible also depends on how you present your case. Mark Kantrowitz, a senior vice president and publisher of Edvisors.com, recommends that you focus on the debt and not on how you feel. Explain and be prepared to prove your financial situation is dire, as a lender will only approve a settlement if the amount is more than what the lender can expect to collect without it. Tell the lender you want to discuss a possible settlement, ask what amount would be acceptable and then let the lender make the first offer before starting to negotiate.
Types of Settlements
The Department of Education allows lenders and collection agencies to negotiate three standard types of settlements without getting prior approval. With the first, you pay the remaining outstanding balance, including both principal and accrued interest, but not any collection charges. The second option involves paying the outstanding principal and 50 percent of the unpaid interest. With the third option, you pay 90 percent of the remaining outstanding balance, including both principal and accrued interest. If you try to negotiate a different amount, the Department of Education must give the lender permission to accept the offer.