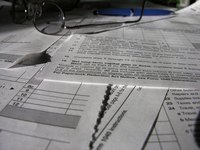 Just because you didn't get a Form 1099 for taxable income or interest you earned doesn't mean that the information didn't get reported to the Internal Revenue Service. The IRS performs compliance checks to make sure that the transactions companies report on 1099s match the information you report on your individual tax return. In addition, legislation passed in 2010 requires companies and independent contractors to report even more transactions.
The Different Kinds of 1099s
The many versions of Form 1099s report different information, but they are all designed to let the IRS know about taxable transactions. Independent contractors use 1099-MISC to report income or miscellaneous revenue. It's like a W-2 form for non-employees. The 1099-INT reports income gained through interest. Other versions of the form report mortgage transactions, stock dividends, bartered transactions, debt cancellation, distributions from special savings accounts and IRAs, and unemployment and other kinds of benefits. Companies that pay you money for services have automated technologies to report the information to the IRS regardless of whether they provide you with a 1099 or it gets lost in the mail.
IRS Compliance Checks
The IRS performs compliance checks with people and businesses to review information that is filed on tax returns. Form 1099s are part of these reviews. These reviews can determine whether you report 1099 income that has been reported by the company to which you provided services. These reviews are not fail-safe, and the IRS knows that millions in revenue goes unreported each year because either taxpayers or businesses fail to report 1099 information. However, the IRS can also conduct a full-scale audit if there are abnormalities in your tax return. Form 1099 and using schedule C to report business income can often be factors in the triggering of an audit.
Health Care Reform
In 2010, Congress passed landmark legislation to expand health care coverage for Americans. Embedded in that law were provisions to dramatically expand 1099 reporting requirements. "The New York Times" reports that the law requires businesses to file a 1099 tax form identifying anyone to whom they pay $600 or more for goods or merchandise in a year. That also means as a small-business owner, you could provide 1099 information for companies such as Staples if you bought more than $600 in supplies. Credit and debit processing will also be reported on 1099 under the law. With the expansion will come new technologies to ensure that you are complying with the law. Bankrate.com reports that the U.S. Treasury expects to be able to collect some of the more than $345 billion that it says goes unreported each year. In 2011, however, a new Congress was contemplating repealing health care reform.
Failure to Report Income
You are required to report all income, even if the income was not reported to you in the form of a 1099. If the IRS determines you fthat ailed to report 1099 income, it can assess additional taxes on you. In addition, you could be responsible for interest and penalties on the unpaid taxes on unreported income.
Keep Records
Even if a payer is supposed to furnish you with a 1099, you are required to keep your own records. You must file a tax return based on your own tracking of your income and expenses. If the IRS notes the discrepancy, you will be on the hook for extra taxes and penalties, not the company that fails to give you a 1099.