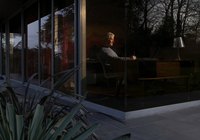 Taxpayers who work from home may qualify for a deduction for business use of the residence. The Internal Revenue Service's definition of a home includes houses, apartments, mobile homes, condos and even boats. What this means is that the taxpayer does not have to own the home to claim expenses. It must be a place where you live and regularly conduct business.
Figuring Percentage
Use IRS Form 8829, Expenses for Business Use of Your Home, to figure your deduction if you own or rent your home. Because IRS regulations permit you to claim expenses based on what percentage of space in your home you use for business, this form provides boxes in which to list the square footage area of your home and the area you use exclusively for work purposes. By following the instructions and doing a bit of simple math, you get the percentage of indirect expenses you can claim. For example, suppose the total area of your home is 1,800 square feet. The office that you use exclusively for business is a 12-by-18-foot room, totaling 216 square feet. You divide 216 by 1,800, which equals 0.12 or 12 percent. Thus, in this example, you can claim 12 percent of indirect expenses on Form 8829.
Indirect Expenses
Expenses you pay to maintain both the business and personal areas of the home must be split before claiming deductions. The IRS calls these indirect expenses. For example, utility bills for the entire home, mortgage interest and real estate taxes are three examples of indirect expenses. Other common indirect expenses include repairs, general maintenance and insurance. If you rent your home, the rent payment is an indirect expense and can be partially deducted.
Direct Expenses
You can claim 100 percent of expenses directly related to your business. In addition to supplies, equipment and materials used exclusively for your work, which you claim on Schedule C, you can also claim the cost of improvements you make to the area where you work on Form 8829. For example, suppose you convert a spare bedroom to a home office space. You paint the walls and upgrade the lighting in the room. If you devote this area exclusively to your work, you can deduct 100 percent of the cost of the improvements as direct expenses.
Adjacent Structures
If you work from home and use a garage or outbuilding as your principal place of business, this too qualifies as business use of a home under IRS guidelines. Should you have a separate mortgage for this structure, claim 100 percent of the loan interest on Form 8829 as a direct expense if the building is used exclusively for your work.
Bringing Work Home
If you work for someone else but regularly bring work home, you may be eligible for a tax deduction. The IRS requires you to itemize your deductions and claim related expenses on Schedule C if you are an employee.